Ukraine urges accountability for MH17 tragedy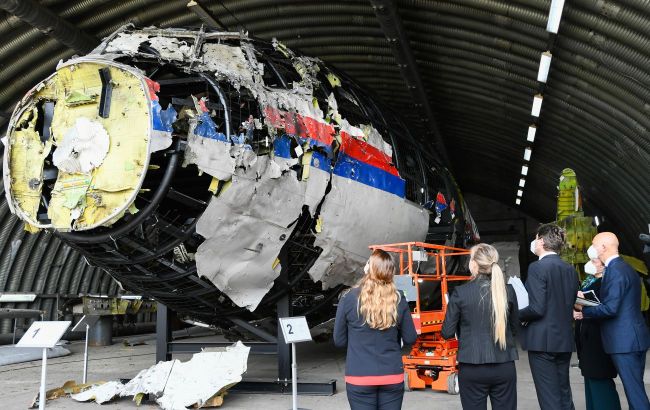 Ukraine called for holding Russia accountable for MH17 (Photo: Getty Images)
Ukraine called for holding Russia and all those involved in the downing of the passenger liner MH17 in 2014 accountable, according to a statement by the Ministry of Foreign Affairs of Ukraine.
Today marks the ninth anniversary of the downing of Malaysia Airlines Flight MH17. The tragedy claimed the lives of 298 people, including 80 children. Ukraine expresses its deepest condolences to the families and loved ones of all the passengers and crew members who perished.
"The downing of Flight MH17 is one of the most howling pages of the aggression of the Russian Federation against Ukraine and made it clear that the actions of the aggressor state have consequences for the entire world community," the Ministry of Foreign Affairs states.
In light of this, Ukraine calls on all involved states and parties to fully cooperate in accordance with the UN Security Council Resolution to hold the aggressor country and all those involved accountable for this shameful and brutal violation of international law.
Furthermore, the ministry welcomes the decision of the District Court of the Hague to find three individuals guilty and sentence them to life imprisonment as accomplices in the downing of MH17. It also applauds the decisions of the Council of the International Civil Aviation Organization (ICAO) and the European Court of Human Rights recognizing their jurisdiction to address disputes regarding Russia's violations of its international legal obligations.
It is also noted that during the oral hearings at the International Court of Justice in June 2023, Ukraine specifically highlighted Russia's violations of the provisions of the International Convention for the Suppression of the Financing of Terrorism, particularly through the transportation of lethal weapons into Ukrainian territory, which led to the downing of Flight MH17.
"Ukraine will continue to make all possible efforts to establish justice for the victims of the tragedy, hold Russia and all guilty accountable, and have guarantees of non-repetition of such a tragic incident," the Ministry of Foreign Affairs adds.
On July 17, 2014, in the skies over Donbas, a passenger liner of Malaysia Airlines Flight MH17 was shot down while en route from Amsterdam to Kuala Lumpur.
The investigation determined that the plane was downed by a missile fired from a Buk surface-to-air missile system belonging to the 53rd Anti-Aircraft Missile Brigade of the Russian Federation. The Russians transported the missile system into Ukraine, where separatists and militants of the so-called "DPR" (Donetsk People's Republic) used it in the conflict against the Ukrainian Armed Forces.
The crash resulted in the loss of 298 lives, with two-thirds of the victims being Dutch citizens. There were also citizens of Malaysia, Australia, Indonesia, the United Kingdom, Belgium, Germany, the Philippines, Canada, and New Zealand on board.
In November 2022, The Hague court delivered a verdict in the MH17 crash case, sentencing Girkin, Dubinsky, and Kharchenko to life imprisonment.