Ukraine updates travel restrictions for men: Who can leave amid mobilization?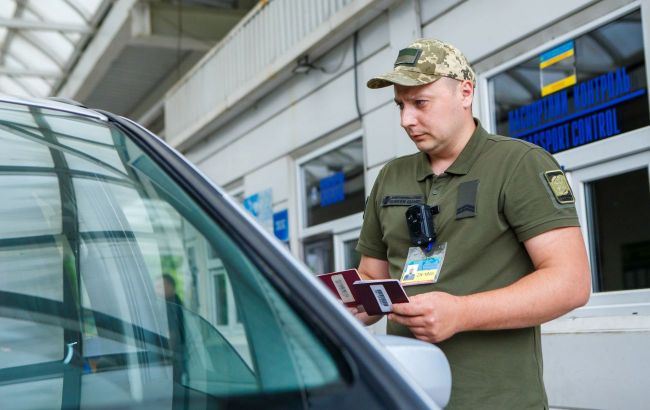 Ukrainian men can leave Ukraine on certain conditions (facebook com zahidnuy kordon)
Due to mobilization and martial law, Ukraine has a ban on the departure of certain categories of people. However, this list is updated and supplemented from time to time.
RBC-Ukraine informs who among Ukrainian men is allowed to travel abroad and what is required for this.
The categories of conscripts who are allowed to leave Ukraine are defined by Cabinet of Ministers Resolution No. 57. There is a list of conditions for leaving the country. These rules, of course, do not apply to those who are not conscripts.
The prohibition for leaving Ukraine does not apply to:
men under 18 and over 60 years old
men aged 18 to 60 with disability status (with documents confirming this)
men aged 18 to 60 who permanently reside abroad (with a passport endorsement)
Regarding the rest, the categories for leacan be divided into several types: by health condition, family circumstances, profession, and officials.
Health condition
In this case, documents confirming disability, receipt of social benefits, removal from military registration, or exemption are required for traveling abroad.
Crossing the border is allowed for:
persons with disabilities (regardless of group of disability). To travel, one must have a certificate of form No. 157-1/o, an identification card, a pension certificate, or a document on social assistance, a certificate of receiving benefits
persons in need of constant care or residing in institutions providing stationary or palliative care services
military injured due to the Russian aggression (for treatment). They can also be accompanied by a close relative of the first-degree kinship, with documents confirming permission to leave
individuals removed or excluded from military registration by the decision of the military medical commission due to temporary unfitness for service (with confirming documents from the Territorial center for recruitment and social support)
Family circumstances
With supporting documents, the following individuals can leave Ukraine:
parents with three or more underage children
parents with a disabled child under 18 years old
single parents with children under 18
guardians and adoptive parents of disabled orphaned minors
parents of adult children with disabilities of Group I or II
guardians of incapacitated persons recognized by the court. If no guardian is appointed, accompanied by a first or second-degree relative if needed
men who provide constant care for individuals with disabilities of Group I or II and accompany them abroad
Men who support their parents or their spouse's parents in need of constant care can also leave the country, provided that they have all the necessary documents.
If one of the parents or the spouse has disability Group I or II, confirmation of family ties, disability, and provision of constant care is required.
Last week, permission to leve Ukraine was granted for to men whose close relatives (husband, wife, son, daughter, father, mother, grandfather, grandmother, brother, or sister) died or went missing as a result of involvement in the Anti-Terrorist Operation or the defense of Ukraine during Russia's full-scale invasion.
Previously, they were only granted a deferral from mobilization.
Officials and government officials
These categories are allowed to travel on official business trips. Corresponding confirming documents are required.
The procedure applies to a wide range of individuals, from ministers and their deputies to representatives of the Verkhovna Rada (Ukrainian Government) and the Office of the President; from the heads of the National Bank and law enforcement agencies to judges, prosecutors, and representatives of local authorities.
Single parents are allowed to travel to meet their children.
Individuals can also leave the country for medical treatment or in case a close relative has passed away abroad. In the latter case, a separate decision is made by the head of the State Border Guard Service.
Profession
Individuals who are members of ship crews (if they are heading to work on sea vessels or inland water vessels), aviation personnel (on business trips or for training), drivers of transportation companies with licenses for international cargo and passenger transportation, can travel abroad.
Additionally, employees of institutions providing care for disabled individuals and other categories in need of care are allowed to leave the country. Military registration must be maintained in this case.
Military personnel on leave can also leave Ukraine if they have permission from their military unit.
With the appropriate documents, athletes and coaches can leave the country for a certain period of time (for participation in competitions and training camps), as well as artists (to raise funds and represent Ukraine on the international stage) and volunteer drivers transporting goods for the Armed Forces of Ukraine, medical supplies, or humanitarian aid.
Border control will be strengthened and Territorial Recruitment Centers involved
It has been recently reported that the control would be strengthened. Specifically, border guards will receive necessary information from the registry of conscripts and military servicemen to prevent departures using forged documents from territorial recruitment centers (TRC).
However, not all men necessarily need to go to military recruitment offices. For departure based on family circumstances or health condition, confirmation of family composition or disability is enough.
The changes will affect those recognized as unfit for service and excluded from military registration. This is due to an increase in cases of forgery of relevant documents.
Andrii Demchenko, spokesperson for the State Border Guard Service, told RBC-Ukraine that an information exchange is being established between the databases of the State Border Guard Service and the Unified State Register of Conscripts and Military Servicemen.
Software is being developed and criteria for TRC representatives' access to the State Border Guard Service database and vice versa are being determined.
"It will start working when all the conditions are met, including technical issues. This is being done to prevent the use of forgeries and reduce other risks when crossing borders," Demchenko said.
Such verification will be conducted for each individual with TRC documents. He also added that since February 2022, over 6,100 individuals with fake documents allegedly issued by military enlistment offices were identified at border checkpoints.