Ukraine's objective for the meeting in Saudi Arabia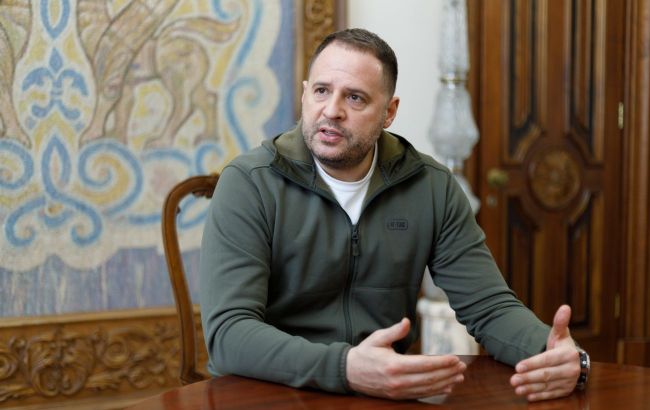 Head of the Ukrainian President's Office, Andriy Yermak (Photo: Vitalii Nosach, RBK-Ukraine)
According to the Telegram channel of Andriy Yermak, the head of Ukrainian President's Office, Ukraine continues its preparations for a second meeting at the advisor level, focusing on national security and political advisors of state leaders, in Saudi Arabia. The upcoming gathering is set to revolve around the fundamental principles of peace, based on President Volodymyr Zelenskyy's Peace Formula.
"Our aim in Saudi Arabia is to formulate a unified vision of the Formula, to deliberate on possibilities for hosting a future Global Peace Summit," he stated.
According to Yermak, Ukraine is pursuing the restoration of global order, international law, and the establishment of just peace in line with the UN Charter and Ukraine's interests.
He disclosed that following the meeting in Copenhagen in June, the initiative's participation has expanded for the Saudi Arabia meeting, encompassing Western, Asian, African, Middle Eastern, and Latin American nations.
Preparation for the meeting
As indicated by Yermak, Ukraine's strategy for implementing President Zelenskyy's Peace Formula consists of three tiers:
The first involves meetings with envoys accredited to Ukraine, focusing on a detailed examination of each aspect of the Peace Formula.
The second entails a Ukrainian initiative involving meetings of national security advisors and political advisors to identify optimal formulations and mechanisms for implementing the Ukrainian peace plan.
The third centers around the foundational Global Peace Summit with state leaders, where the implementation of the Formula will take place.
Ukrainian Peace Formula
Previously, President Volodymyr Zelenskyy introduced the "Peace Formula" to halt the conflict. It comprises ten points related to ensuring security in Ukraine in the context of military actions. These include:
1. Radiation and nuclear safety (Russia's withdrawal from the Chornobyl Exclusion Zone, renunciation of nuclear threats).
2. Food security (expansion of grain initiatives).
3. Energy security.
4. Release of all captives and deportees (release according to the "all for all" formula).
5. Adherence to the UN Charter, restoration of territorial integrity, and global order.
6. Withdrawal of Russian forces and cessation of hostilities.
7. Justice.
8. Ecocide, urgent need for environmental protection.
9. Prevention of escalation.
10. Recording the end of the war.
Meeting in Saudi Arabia
The Wall Street Journal reported, citing diplomats, that a peace-related meeting concerning Ukraine will take place in Saudi Arabia, excluding Russia from the invitation list. According to WSJ, the forum is scheduled for August 5th and 6th.
Subsequently, the head of the President's Office, Andriy Yermak, confirmed that Saudi Arabia will indeed host the meeting regarding the peace formula proposed by Ukrainian President Volodymyr Zelenskyy.