Accused of state treason Ukraine's MP has phone chats with Russian FSB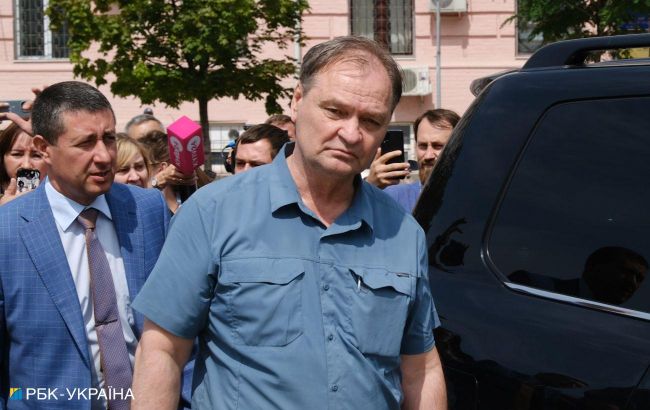 Oleksandr Ponomariov (Vitalii Nosach, RBC-Ukraine)
The investigation based on the Telegram chats revealed that the deputy maintained communication with two FSB agents during the spring and summer of 2022 while being in occupied territory. One of them used the call sign "Bogun," while the other was referred to as "Lys." Ponomariov arranged meetings with them in Berdyansk and Crimea and provided reports on the operations of his enterprises in the occupied territory.
Chat with "Bogun"
In the messages found on one of Ponomariov's phones, the MP himself initiated a meeting with "Bogun," stating, "Hello, we need to talk!" The response from "Bogun" suggested a meeting "on Sunday in Simferopol."
On July 11, 2022, "Bogun" sent Ponomariov a voice message addressing him as "batia" (slang for "boss" or "father") and updating him on the health of someone referred to as "teshcha" (mother-in-law), stating that no assistance was needed.
Chat with "Lys"
According to "Schemes," law enforcement officers found correspondence in Ponomariov's phone with a contact named Viktor "Lys." It is presumed that "Lys" might be another FSB employee subordinate to "Bogun." The correspondence indicated that Ponomariov met with "Lys" several times, for example, on May 28, 2022.
Three days after this meeting, Ponomariov sent a document to the FSB agent, suggesting the "reasonable" integration of Ponomariov's holding enterprises into the economy of Crimea. The document aimed at creating new sales markets, entering into contracts, and establishing deliveries to Asian countries through Crimea.
MP's position on the matter
Journalists noted that Ponomariov previously confirmed that during the occupation, he had contacts with an FSB employee called "Bogun." However, he stated that the individual was a "FSB officer in a balaclava," who tried to convince him to cooperate, an offer he claimed to have rejected.
Ponomariov's case
On July 24, Ponomariov was informed of suspicion of state treason.
Investigations by the State Bureau of Investigation revealed that during the full-scale Russian invasion while being in the temporarily occupied territory, the MP re-registered his enterprises according to Russian legislation and even provided fuel to the enemy.
Today, the Pecherskyi District Court imposed pre-trial detention as a preventive measure against Ponomariov.