Ukrainian MP from banned party accused of state treason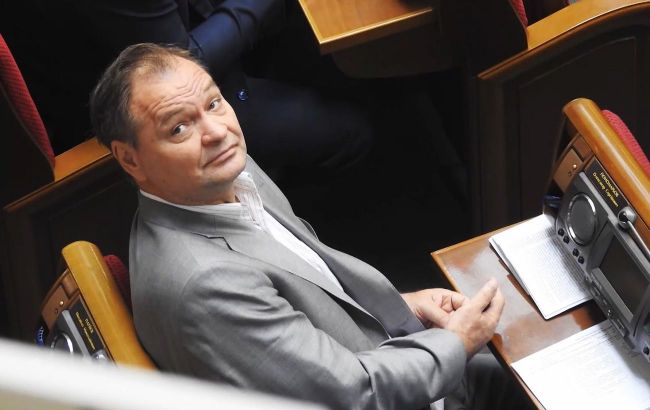 Photo: Oleksandr Ponomariev (video screenshot)
According to the Security Service of Ukraine (SBU) press service, a member of parliament from the banned party "Opposition Platform - For Life" (OPFL) has been informed of suspicion of state treason. The individual in question is Oleksandr Ponomariov.
"The Security Service and the State Bureau of Investigations exposed an active Ukrainian MP from the prohibited pro-Russian party 'OPFL' collaborating with Russia," the report stated.
According to sources within Ukrainian law enforcement agencies, the accused is MP Oleksandr Ponomariov.
Photo: Parliament member, Oleksandr Ponomariov, from the banned party "Opposition Platform - For Life" (OPFL) has been informed of suspicion of state treason.
As revealed by law enforcement, during Russia's full-scale invasion, this lawmaker voluntarily cooperated with the aggressor while being in the temporarily occupied territory of Zaporizhzhia region. He not only re-registered his businesses under Russian law in the occupied part of Zaporizhzhia region but also opened accounts at local "branches" of Russian financial institutions. Additionally, he supplied fuel to Russian forces.
As per the SBU, the factories owned by the MP provided fuel and lubricants for Russian military equipment and contributed machinery for constructing enemy fortifications. Even after leaving for Kyiv, he continued to coordinate enterprises that assisted the enemy in its war against Ukraine.
Law enforcement officials discovered and confiscated electronic devices containing evidence of the MP's activities in favor of Russia. Currently, the issue of imposing preventive measures on the suspect is being decided.
The MP has been informed of the suspicion under Part 1 of Article 111 of the Criminal Code of Ukraine (state treason), which carries a prison sentence of up to 15 years.
OPFL is banned in Ukraine
As a reminder, the Supreme Court of Ukraine has prohibited the activities of the "Opposition Platform - For Life" party.
Furthermore, some MPs from this political group fled abroad even before the outbreak of full-scale war, while others declared their withdrawal from the faction. Some representatives of OPFL have already been deprived of their mandates due to multiple exposures of cooperation with the aggressor country.