Ukraine's Ministry of Defense on frontline updates: Army liberating Urozhainе, advancing near Bakhmut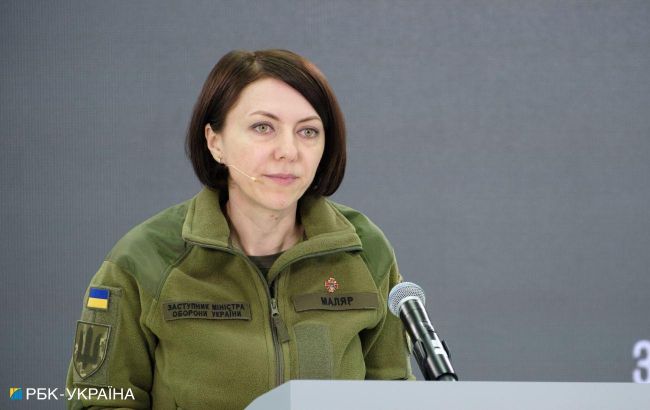 Deputy Minister of Defense of Ukraine Hanna Maliar (Vitalii Nosach, RBC-Ukraine)
Unsuccessful enemy offensive
According to Maliar, the enemy is currently trying to launch constant attacks in the Kupiansk and Lyman directions, but Ukraine's defenders are repelling them.
In particular, in the Kupiansk direction, they are intensifying mine-laying efforts along the border with Ukraine and searching for weak points in the Ukrainian defense.
Meanwhile, in the Lyman direction, the Russians continue their assaults to displace Ukrainian troops in the area of the Serebriansky Forest in the Donetsk region, but they do not succeed.
Russian advances are also taking place in the Avdiivka and Maryinka directions. They want to gain full control over Maryinka and surround Avdiivka.
"Our defenders are preventing the enemy from fulfilling their plans, but it's very challenging. Intense battles are ongoing. The situation there is tense and complex," Maliar clarified.
Advancement of the Ukrainian Armed Forces
According to the Deputy Minister of Defense, Ukrainian troops continue to advance in the Bakhmut area. In a week, they have liberated 3 square kilometers there, and the total liberated area now stands at 40 square kilometers.
The Ukrainian forces have also achieved success to the south and southeast of the village of Staromaiorske.
"During the offensive actions, the Ukrainian forces in the Tavriisk direction continue the liberation of the Urozhainе settlement," the official added.
Photo: Urozhainе on the map (deepstatemap.live)
Counteroffensive of the Ukrainian Armed Forces
Since the beginning of summer, the Ukrainian military has been conducting counteroffensives on certain fronts. They have already achieved success in the southeastern direction, where they liberated a number of settlements.
For instance, on July 27, they managed to liberate Staromaiorske in the Donetsk region.
Ukrainian soldiers also advanced near Bakhmut. They occupied dominant heights there and brought the city under fire control.
Earlier, the Advisor to the President's Office, Mykhailo Podolyak, criticized those who were dissatisfied with the "slow" progress of the Ukrainian army.