Ukraine's MFA lists 5 reasons not to extend EU grain import restrictions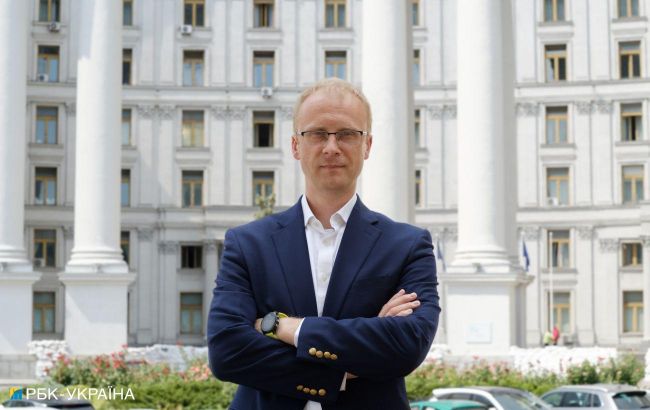 Spokesperson for the Ministry of Foreign Affairs of Ukraine Oleg Nikolenko (Vitalii Nosach, RBC-Ukraine)
Tomorrow, September 15, the European Commission's ban on the import of Ukrainian grain to EU states will expire. Spokesperson for the Ministry of Foreign Affairs of Ukraine Oleg Nikolenko pinpoints five main reasons why restrictions should not be extended.
According to him, Ukraine and the EU have established a joint coordination platform and all concerns from some European states have been addressed.
Furthermore, Nikolenko says that the export of Ukrainian agricultural products is not a cause of destabilization in the European market.
Despite the European Commission's ban and the prolonged absence of Ukrainian grain imports, the problems of farmers in Slovakia, Poland, Romania, and Hungary have not been resolved. Nikolenko notes it is necessary for their governments to find national solutions, and not at the expense of restrictions on Ukraine.
At the same time, Bulgaria's decision to resume the import of Ukrainian grains only confirms the baselessness of unilateral restrictive measures.
"The artificial restriction of Ukrainian exports benefits Russia, which is a competitor of Ukraine in global grain markets," Nikolenko says.
He explains that there are no restrictions on the EU market for Russia. Meanwhile, the reduction in Ukrainian grain shipments means more potential income for Russia to fund its war against Ukraine.
He also underlines that the import ban is fundamentally unlawful.
"It violates the Association Agreement between Ukraine and the EU, as well as the principles and norms of the European single market," he says.
Ban on Ukrainian products
The European Union allowed 5 countries to impose a ban on the sale of Ukrainian wheat, corn, rapeseed, and sunflower seeds on the domestic market while permitting transit.
Poland, Romania, Slovakia, and Hungary are calling on the EU to extend the ban on the import of Ukrainian grain.
However, Bulgaria has taken an unexpected step. Yesterday, the Committee on Economic Policy and Innovation of the Bulgarian Parliament approved a proposal that the country does not aim to extend the ban.