Ukraine is closer to receiving Mirage 2000D fighter jets from France - Media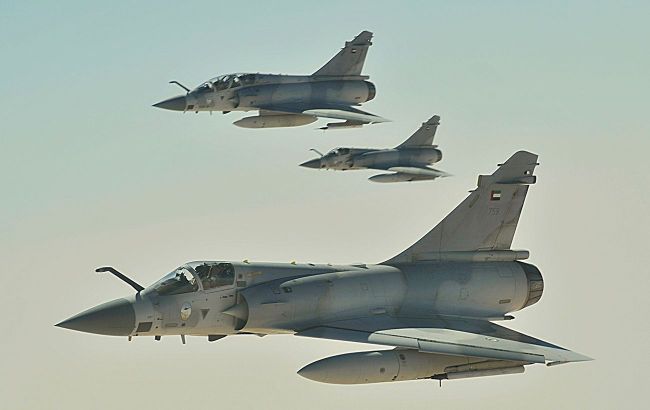 Ukraine may receive Mirage 2000D fighter jets from France (Photo: wikipedia org)
The agreement for Ukraine to receive a certain number of Mirage 2000D fighter jets from the French Air Force is progressing, according to Intelligence Online.
A delegation of Ukrainian Air Force commanders has traveled to France to coordinate the details of the future agreement, under which Ukraine will receive an unspecified quantity of Mirage 2000 jet fighters.
Specifically, Ukraine is interested in the specialized attack version of the Mirage 2000D.
Training for pilots may have already begun
The report mentions that due to agreements reached last year between Presidents Volodymyr Zelenskyy and Emmanuel Macron, France could have already commenced training Ukrainian pilots in the Mirage weapon system.
This training will occur over several months at four bases: Nancy-Och, Mont-de-Marsan, Velizy, and Romorantin-Lanthenay.
What is known about Mirage 2000D?
The Mirage 2000D is optimized for low-level flight and ground attack/ground support missions. It can carry ASTAC electronic warfare pods, advanced infrared/CCD/ laser targeting pods, and launch SCALP-EG/Storm Shadow cruise missiles and laser-guided bombs.
France has more than 50 of these aircraft, which are being upgraded to enhance their air-to-air and air-to-ground capabilities, along with an additional, tactile, centralized attack and navigation system that simplifies piloting.
Some of the French Mirage 2000D aircraft have been upgraded with VHF-FM radios and the ROVER video transmission system, which, along with the Link 16 data transmission system, enables secure real-time information exchange between the aircraft's sensors and command centers or receiving information from friendly forces on the ground.
Why do these aircraft interest Ukraine?
The publication notes that these recent features should interest the Ukrainian Air Force as they will expand the number of platforms capable of launching Storm Shadow/Scalp EG cruise missiles (currently used on Su-24 aircraft).
Additionally, thanks to their Link 16 channel, they will receive real-time information from numerous reconnaissance assets deployed by NATO to assist Kyiv, and they will be compatible with F-16 fighters.
Background
Previously, the media reported that Ukrainian pilots were supposedly undergoing training on Mirage 2000 aircraft in France. Later, the spokesperson for the Air Force, Yurii Ihnat, denied such information.
Former Ukrainian Defense Minister Oleksii Reznikov stated that Mirage 2000 fighters did not meet several essential characteristics that Ukraine considered a priority.
In early September, it became known that President Volodymyr Zelenskyy had agreed with French President Emmanuel Macron to train Ukrainian pilots on F-16 fighters.