Ukraine - England: Euro 2024 qualifying match forecast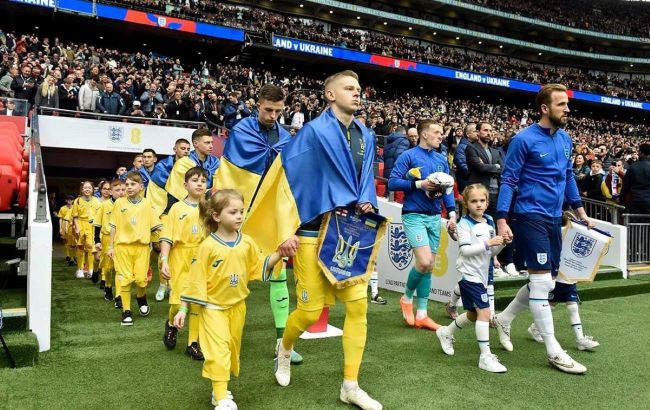 In the upcoming qualification match for the 2023 European Championship, the Ukrainian national team will face off against the English national team.
Below are insights into the bookmakers' predictions for the match.
The Ukraine vs. England match will take place on September 9 in Wroclaw, Poland, at the Tarchinski Arena, with the kick-off scheduled for 19:00.
Experts from the British bookmaker William Hill have unequivocally designated the home team as the favorites for this match. Betting odds for a victory by the "Three Lions" are set at a modest 1.44. In contrast, the potential success of the "blue and yellows" is rated at 7.50. A draw appears to be much more likely, with odds at 4.33.
Fans looking to test their nerves might consider betting on a goalless draw, with a tempting odds of 12.00. Another bold option is to wager on both teams scoring in each half, with a similar odds of 13.00.
Meanwhile, Austrian bookmaker Bwin is slightly more favorable towards the Ukrainian national team. The odds for a victory by Serhii Rebrov's team are noticeably lower at 6.75, while a win for the English national team is rated at a similar 1.47. The odds for a draw are not significantly different, standing at 4.40.
Believing in Ukraine's victory in both halves could multiply fans' winnings by an incredible 26 times. A more grounded bet could be a hard-fought 1-1 draw, for which bookmakers offer a respectable odds of 8.25.
England's manager, Gareth Southgate, was faced with personnel issues ahead of the match against Ukraine. Due to injuries, Alexander-Arnold and Grealish will not be available for the English team. Trippier, the leader of Newcastle, will replace Liverpool's defender in the lineup.