Ukraine aims to extend the Lend-Lease Act, hopes for continued US military aid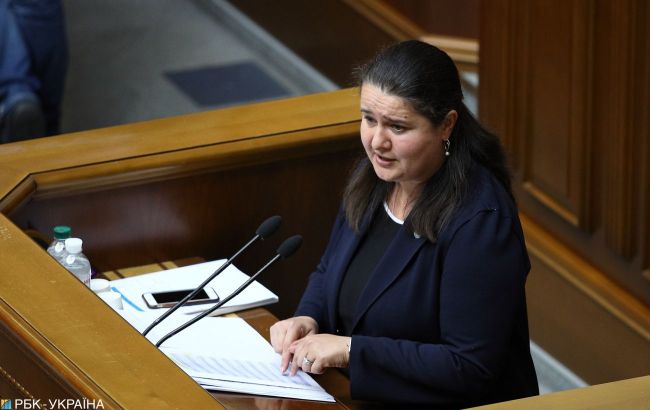 Ukrainian Ambassador to Washington, Oksana Markarova (Photo: Vitalii Nosach, RBC-Ukraine)
According to the interview with Ukrainian Ambassador to Washington, Oksana Markarova, with the Radio Svoboda (Radio Liberty), Ukraine is hopeful for the United States' extension of free military assistance to Kyiv, but the option of land lease is also being considered.
Ukraine is actively working towards extending the term of the Lend-Lease Act, which is set to expire at the end of September.
"We are currently working closely on extending the duration of this law, which has almost been approved by the White House. We are now working with the Senate," the ambassador stated.
"Additionally, we hope to persuade our colleagues to allocate grant funds in the supplementary budget. However, in case of any delays or difficulties, having the option of leasing or renting weapons is crucial to remain viable. Thus, we are undertaking comprehensive efforts in all directions," Markarova explained.
The Lend-Lease Act
The Lend-Lease Act was signed by US President Joe Biden on May 9, 2022. Among other provisions, it expands the powers of the US President in agreements regarding the supply of military aid to Ukraine. Essentially, it allows for the lending or leasing of military equipment with simplified export control procedures.
The law permits the White House to provide Ukraine with weapons, equipment, ammunition, and dual-use items through an expedited process, without waiting for specific congressional appropriations.
The last time the land lease program was in effect was during World War II, when the US provided military aid to the opponents of Nazi Germany, primarily Great Britain and the Soviet Union.
However, the US did not provide weapons to Ukraine through the land lease during the ongoing crisis, as all aid was given free of charge. According to the Pentagon's data, Washington has provided Kyiv with $43 billion in military assistance since the start of the full-scale Russian invasion of Ukraine.