Ukraine uses three modifications of Leopard tanks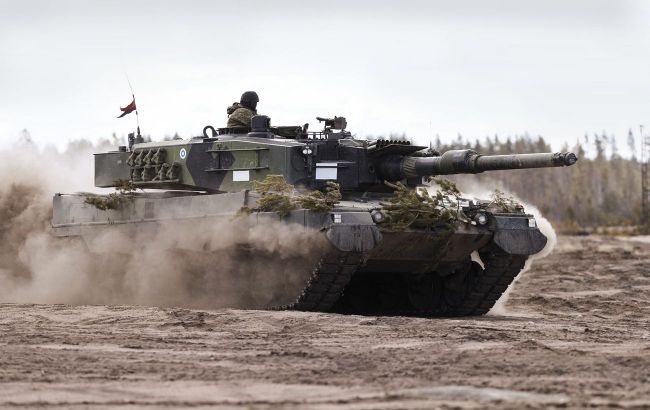 Ukrainian Armed Forces uses Leopard tanks of various modifications (Photo: GettyImages)
The Ministry of Defense of Ukraine has accepted foreign-produced Leopard tanks with three modifications for the Armed Forces. This includes Leopards 2A6, 2A5, and 1A5, according to the Ministry of Defense of Ukraine.
The orders for accepting these tanks into the arsenal of the Ukrainian Armed Forces were signed by the Minister of Defense, Rustem Umerov.
Ukraine received Leopard 2A6, Leopard 2A5, and Leopard 1A5 tanks from Western partners as part of military and defense assistance.
The Ministry of Defense noted that Leopards have proven themselves effective in combat.
"By accepting these tanks into service, the ministry declares its intention to have modern and high-tech weapons for the long term," the defense department said.
The Ministry of Defense also pointed out that the Leopard tanks of modifications 2A6, 2A5, and 1A5 are designed for breaking through fortified enemy positions, destroying fire points, enemy vehicles, and personnel, as well as quickly organizing defensive lines.
Differences between the Leopard modifications 1A5, 2A5, and 2A6
The German Leopard 1 tank model was designed in 1956, and serial production began in Germany in 1965. The project's initial purpose was to replace the American M47 and M48 tanks that the West German army had in the 1950s and 1960s, according to ITC.
The Leopard 1A5 modification is a well-equipped final production model. The design was modified for more effective resistance to Soviet tanks T-64B, T-72B, T-72M1, and T-80. The tank received the Krupp-Atlas Electronik (KAE) EMES 18 fire control system with a Carl Zeiss thermal imager (similar to EMES 15 in Leopard 2). Instead of a stethoscope, a laser rangefinder appeared.
This model adopted the ballistic computer and computer control block from Leopard 2. Also, a collimator was installed on the barrel to accelerate sight adjustment.
Leopard 1A5 also received improved ammunition - armor-piercing fin-stabilized discarding sabot (APFSDS) projectiles DM23 and DM33. Such models can install a 120mm gun from Leopard 2, but serial modernization was considered impractical.
Photo: Leopard 1A5 tank
The Leopard 2A5 model has wedge-shaped spaced armor, stronger frontal armor, anti-splinter lining, and an improved L/55 gun braking system. The commander's sight was moved and received an independent thermal imaging channel, and the gunner's sight was also moved to the turret's roof. The turret is fully electrically controlled, with an improved braking system for the L/55 gun.
Among the modifications is the Danish Leopard 2A5 DK, an upgraded version beyond Leopard 2A6.
Photo: Leopard 2A5 tank
The Leopard 2A6 tank modification initially received the 120mm L/55 gun, distinguishing it from earlier generations. It also received numerous improvements and variants, indicating it as a separate family.
Photo: Leopard 2A6 tank

Transfer of Leopards to Ukraine
Recall that some European countries decided to provide Leopard 2 and Leopard 1 tanks to Ukraine as part of military aid. Overall, the Allies promised to provide two battalions of Leopard 2 tanks (about 60 units).
Poland agreed to organize a service center on its territory for their repair. Thus, it became known in early October that Poland had handed over a batch of repaired Leopard 2 tanks to Ukraine.
The Ministry of Defense of Germany recently announced that a shipment of German Leopard 1 tanks and other equipment would arrive in Ukraine in the coming days.