U.S. Treasury Secretary to propose strengthening international support for Ukraine at G20 summit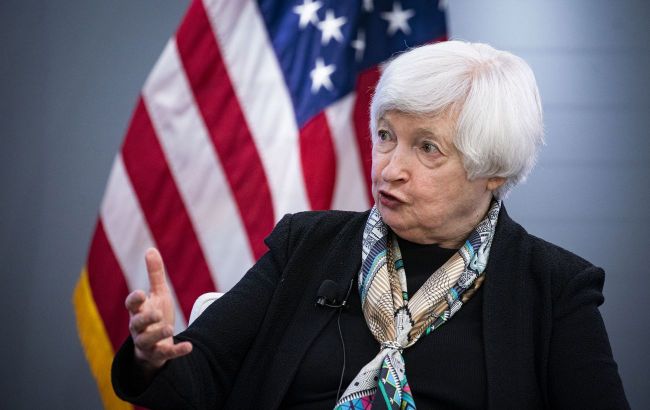 U.S. Treasury Secretary Janet Yellen (Getty Images)
Reuters reports that the United States is set to bolster international support for Ukraine at the G20 summit in India, according to statements by U.S. Treasury Secretary Janet Yellen.
In a prepared speech at a press conference in New Delhi, Yellen emphasized the importance of continuing to provide timely economic assistance to Ukraine. This assistance includes measures such as the International Monetary Fund's (IMF) $15.5 billion credit program for Ukraine and the European Union's proposed €50 billion support program for Ukraine by 2027.
Addressing the urgent need to counter food security challenges stemming from Russia's withdrawal from the Black Sea grain agreement, Yellen called for support of the G20 program "Global Agriculture and Food Security" as well as the United Nations International Fund for Agricultural Development.
Ukraine aid
The IMF approved a four-year Extended Fund Facility (EFF) program for Ukraine totaling $15.6 billion on March 31. This program is part of the broader international support package for Ukraine, valued at $115 billion. As part of the program, the Ukrainian government committed to implementing 19 structural benchmarks to continue receiving funding.
Additionally, the European Commission has proposed the creation of a new instrument within the European Union budget for Ukraine, encompassing grants, loans, and guarantees to cover a portion of Ukraine's ongoing expenses and finance urgent reconstruction projects. This instrument will provide continuous financial support until 2027 and cover 45% of Ukraine's budget deficit during this period. A Ukrainian Fund with a budget of €50 billion is planned to be established.
Ukraine's Finance Minister Serhii Marchenko previously stated that Ukraine will require over $40 billion in international assistance in 2024, but such assistance is not guaranteed at this time.