U.S. officially delivers reform proposals to Ukraine, but Zelenskyy has his own ideas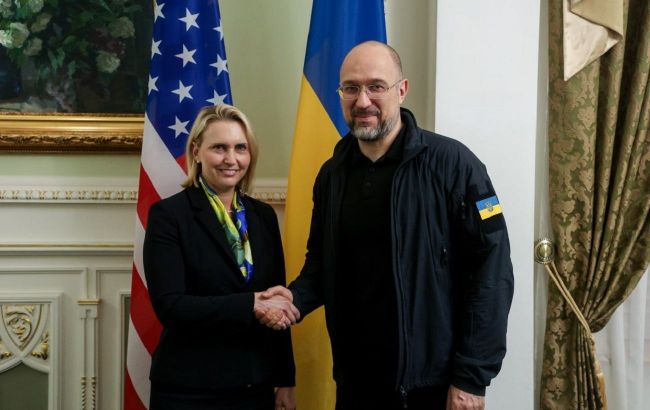 Photo: U.S. Ambassador Bridget Brink and Prime Minister of Ukraine Denys Shmyhal (t.me/Denys_Smyhal)
United States Ambassador Bridget Brink officially delivered Washington's proposals for reforms to Ukraine, while Kyiv presented its own view on this matter to the United States, according to Ukrainian Prime Minister Denys Shmyhal.
He mentioned that the American Ambassador Brink handed over the Concept for Strengthening Democracy in Ukraine.
"This document was developed at the initiative of President Volodymyr Zelenskyy and was agreed upon, including with the leaders of anti-corruption agencies in Ukraine," explained the head of the Ukrainian government.
Shmyhal added that to implement this Concept, Ukraine, together with all its partners, aims to create a unified Reform Plan to strengthen democracy, which will "include all the needs for positive changes in various areas."
In turn, Ambassador Brink officially presented the U.S. proposals for reform discussions in Ukraine.
"We are committed to our path of reforms, which are changing our country for the better and bringing Ukraine closer to the EU and NATO," emphasized Shmyhal.
The Prime Minister also discussed direct budget support from the United States, joint work within the Ukraine Donor Coordination Platform, strengthening the protection of Ukrainian skies, and assistance to the energy sector of Ukraine.
Prime Minister of Ukraine Denys Shmyhal met with U.S. Ambassador Bridget Brink (photo: t.me/Denys_Smyhal)
U.S. list of reforms for Ukraine
At the beginning of this week, media reported that Mike Pyle, White House Deputy National Security Advisor for International Economics, sent a letter to Ukraine with a list of reforms it needs to carry out to continue receiving assistance.
The reforms include the functioning of anti-corruption agencies, the High Council of Justice, the overall judicial system, and the supervisory boards of state-owned enterprises.
Later, the U.S. Embassy in Ukraine confirmed that Washington had indeed delivered a list of priority reforms to the Ukrainian side for the fastest possible integration into Europe.
Shmyhal previously stated that Ukraine aimed to discuss with its allies the forming of a unified reform roadmap to receive financial assistance.
As previously noted in the White House, the list of priority reforms handed over by the United States to expedite Ukraine's integration into Europe is not a condition for further military aid to the country.