U.S. condemns Russian shelling of Ukrainian ports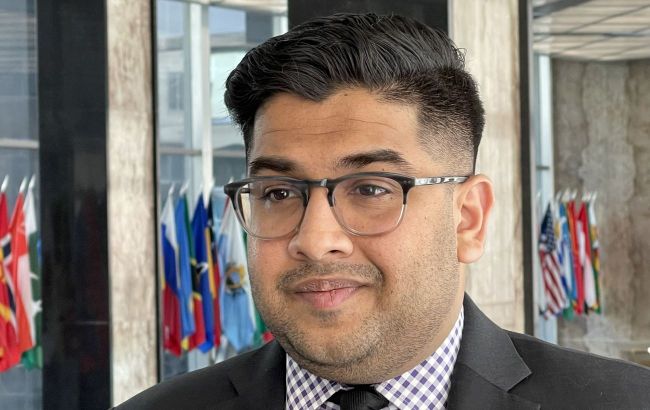 Vedant Patel, Deputy Spokesperson of the U.S. State Department (Photo: Getty Images)
According to Vedant Patel, Deputy Spokesperson of the U.S. State Department, and his statement made during a briefing, the U.S. State Department has condemned the attacks carried out by Russian occupying forces on Ukraine's grain infrastructure.
"The United States condemns Russia's continued attacks on Ukrainian grain infrastructure and calls for Russia to immediately return to the Black Sea Grain Initiative," he stated.
He reminded that Russian drones damaged warehouses and grain storage facilities at the Ukrainian port of Reni on the Danube river near the Romanian border yesterday. This adds to the previous Russian attacks on Ukrainian port infrastructure in Odesa, Reni, and Izmail.
"This escalation demonstrates Moscow continues to prevent grain and foodstuffs from reaching those who need it most throughout the world. It is unacceptable. Putin simply does not care about global food security," the spokesperson remarked.
Patel emphasized that such actions by the Kremlin negatively affect Ukrainian farmers and all those around the world who are most vulnerable to food insecurity.
He noted that Russia's attacks on Ukrainian port infrastructure have destroyed hundreds of thousands of tons of Ukrainian grain destined for global markets. According to him, this further exacerbates the global food crisis and maintains high prices for food products.
The spokesperson added that these attacks are happening in addition to the loss of a quarter of Ukraine's arable land.
"The contrast here is quite sharp. Our Ukrainians are inspiring the world, while Russia starves it by weaponizing food," Patel concluded.
Ukraine shelling on August 16
Yesterday, Russian military once again shelled the south of Ukraine using kamikaze drones. Their main targets were ports. Specifically, Russian occupying forces targeted the port of Reni in the Odesa region. Two tractors caught fire in two metal warehouses.
The old elevator building, parts of silos, and storage facilities for grains were also affected there. Furthermore, a new grain storage facility, which was nearly completed and about to be operational, was destroyed.
At that time, Air Defense Forces downed 13 Shahed drones over the Odesa and Mykolaiv regions.