U.S. begins training Ukrainian pilots for F-16 flights - Pentagon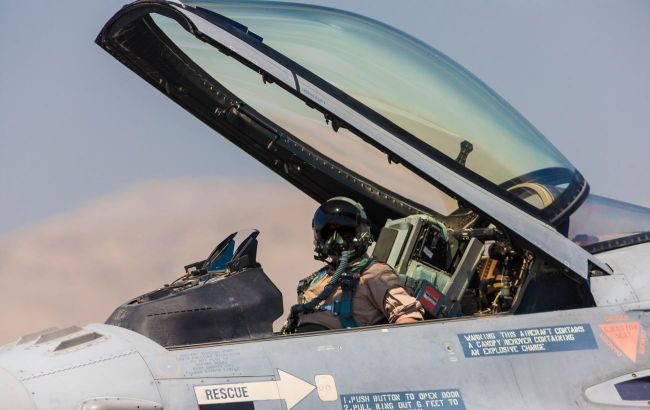 U.S. begins training Ukrainian pilots for F-16 flights (Photo: Getty Images)
The training of Ukrainian pilots to operate F-16 fighter jets has already begun in the United States, according to the Pentagon's website.
"The Defense Department is already participating in providing training to help ready Ukrainian pilots to fly the F-16 aircraft. The U.S. also expects to be ready to make sure spare parts are available for those aircraft," the statement said.
The department also noted that Ukrainian military personnel are undergoing training on F-16s in the United States and Europe.
The Pentagon recalled that earlier this year, the U.S. Department of State expressed readiness to approve a third party's transfer of U.S.-made F-16 aircraft to Ukraine. The Netherlands, Denmark, and Norway intended to supply the aircraft from their air forces.
"To ensure the Ukrainians are successful with those F-16s, Ukrainian pilots have been training in the U.S. and Europe on both flight operations and maintenance," the U.S. Department of Defense stated.
According to the Deputy Under Secretary of Defense for Acquisition and Sustainment, Bill LaPlante, the aircraft could be grounded in just a few months without spare parts for the F-16s that Ukrainian pilots will fly. Therefore, the Americans plan to create a 90-day spare parts stockpile for the aircraft.
"We're not going to let that happen. And just because other countries provide their airplanes, we have to make sure if they don't provide the spares that we find the spares and provide them," said LaPlante.
F-16s for Ukraine
Several allies of Ukraine have agreed to provide F-16 fighter jets to our country. For example, the United States has already begun training pilots on American fighter jets.
In particular, on November 7, President Volodymyr Zelenskyy confirmed information that Dutch F-16s had arrived in Romania for Ukrainian training.
Recently, Yurii Ihnat, a spokesperson of the Air Force Command of the Armed Forces of Ukraine, stated that pilots had begun practical training on F-16s in the air.