Two Ukrainian children killed in missile attack on Gaza Strip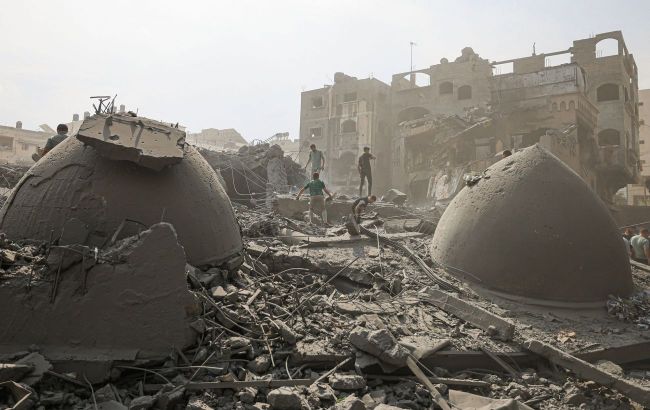 Two Ukrainian children killed in missile attack on Gaza Strip (Getty Images)
On October 24th, two Ukrainian children lost their lives in a rocket attack on the Gaza Strip, as Oleg Nikolenko, a spokesperson for the Ukrainian Ministry of Foreign Affairs, told RBC-Ukraine.
"The Ukrainian Ministry of Foreign Affairs confirms the deaths of two Ukrainian children born in 2014 and 2017 in the Gaza Strip. Their identities have been established. Our condolences to their parents. The Ukrainian representation in Ramallah is investigating all the circumstances of the tragedy and maintaining contact with the relatives," he stated.
The head of the Ukrainian Embassy's department to the Palestinian National Authority, Tiokin, also confirmed these details in a statement to Suspilne.
Furthermore, a representative of the Ukrainian community, currently in the Gaza Strip, shared this information. According to him, the two children were a 9-year-old brother and a 6-year-old sister. Their mother, originally from Kharkiv, survived the attack.
19 Ukrainians have been confirmed dead in Israel so far. Another person is considered missing. Three Ukrainians lost their lives in the Gaza Strip.
According to the Palestinian Ministry of Health, controlled by Hamas, over 700 people have lost their lives in the Gaza Strip in the past day.
Ukrainians affected by Hamas attacks on Israel
Ukraine, in cooperation with its partners, is working on the evacuation of Ukrainian citizens from both Israel and the Gaza Strip. Four evacuation flights have been organized from Israel for Ukrainians.
However, the situation is more complex for the evacuation from Gaza, as the only border crossing between Gaza and Egypt remains closed. Ukraine, Moldova, and Romania have agreed to collaborate on the evacuation efforts, and nearly 340 Ukrainian citizens have already applied for evacuation.