Two Russian subversive groups tried breaching Ukrainian border in Chernihiv region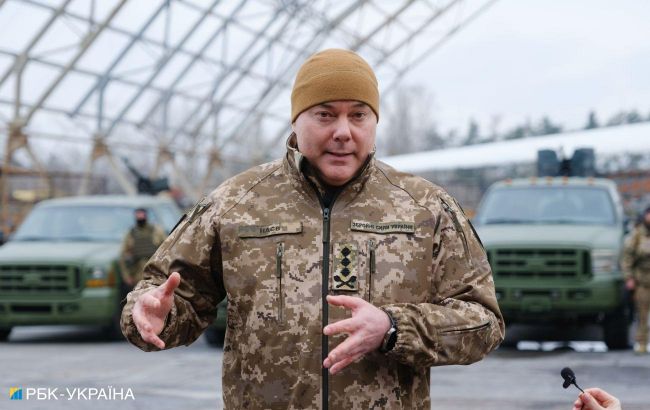 Serhii Naiev (Vitalii Nosach, RBC-Ukraine)
Another attempt to cross the state border of Ukraine by the Russian Federation was prevented in the Northern Operational Zone, within the Novhorod-Siverskyi territorial community, according to the Commander of the Joint Forces of the Armed Forces of Ukraine, Lieutenant General Serhiy Naiev.
According to Naiev, a sentry at an observation post noticed the approach of two armed militant groups towards the controlled zone from opposite sides, leading to an exchange of gunfire.
Following the decision of the senior commander in charge of enemy sabotage forces, artillery fire was directed at the adversary. Simultaneously, an anti-sabotage reserve with aerospace reconnaissance units was deployed towards the national border, as reported by Naiev.
Preliminary information indicates that the sabotage-reconnaissance groups consisted of five and seven militants.
"Having suffered casualties in terms of wounded and killed, the enemy retreated in the opposite direction," the general wrote.
Russian subversive groups in the north
According to Serhii Naiev's information, Russian sabotage-reconnaissance groups are consistently attempting to breach the borders in the Sumy and Chernihiv regions.
On August 1, there was an attempt by a sabotage-reconnaissance group in the Chernihiv region to breach the Ukrainian border, firing at the border area with automatic grenade launchers during the day.
Furthermore, on August 12, a Russian sabotage-reconnaissance group, consisting of approximately ten individuals, infiltrated into the territory of Ukraine in the Sumy region.
Evacuation from a five-kilometer border zone was announced in the Sumy region as there has been an increase in artillery shelling and the escalated attempts by Russian sabotage-reconnaissance groups to breach into Ukrainian territory.