Top Ukrainian oligarch Kolomoisky faces charges for fraudulent schemes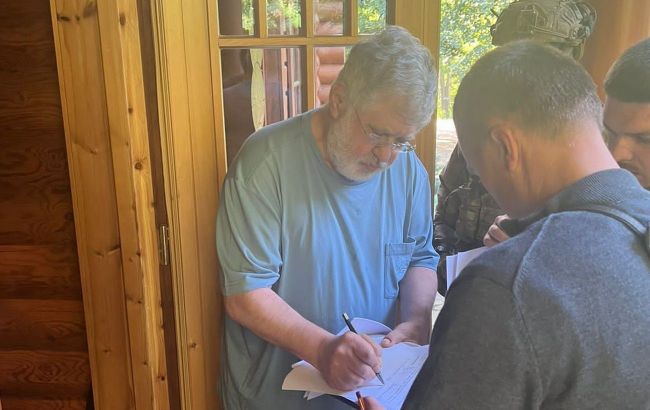 Photo: Ihor Kolomoisky (t.me/SBUkr)
Ukrainian oligarch Ihor Kolomoisky has been handed in a written notice of suspicion. He is suspected of money laundering involving a large sum of funds through offshore transactions, according to sources in law enforcement agencies.
"The Security Service of Ukraine (SSU), Economic Security Bureau of Ukraine (ESBU), and the Office of the Prosecutor General have charged the controversial oligarch with suspicion on multiple counts of the Criminal Code, specifically Articles 190 and 209, related to the legalization of property obtained through fraudulent means," the source noted.
Photo: Ihor Kolomoisky has been handed in a written notice of suspicion (t.me/SBUkr)
What the SSU says
The Security Service of Ukraine has officially confirmed the issuance of suspicion under two articles of the Criminal Code of Ukraine:
Article 190 - Fraud;
Article 209 - Money laundering (legalization) of property obtained through criminal means.
"It has been established that during the period of 2013-2020, Ihor Kolomoisky laundered over half a billion hryvnias (USD13,477,064) by transferring them abroad, using the infrastructure of banks under his control," the SSU stated.
Searches at Kolomoisky's residence
In February, the Security Service conducted searches at the home of oligarch Ihor Kolomoisky. This was part of an investigation into fraud at "Ukrtransnafta" (oil transportation operator) and "Ukrnafta" (largest oil and gas extraction company). Later, it became known that top management of these companies had also been charged with suspicion.
The management of these companies is suspected of diverting large quantities of petroleum products to affiliated companies. This allowed them to evade taxes and led to the devaluation of the company's assets.