Three Ukrainian women among 100 global influencers in 2023: Who are they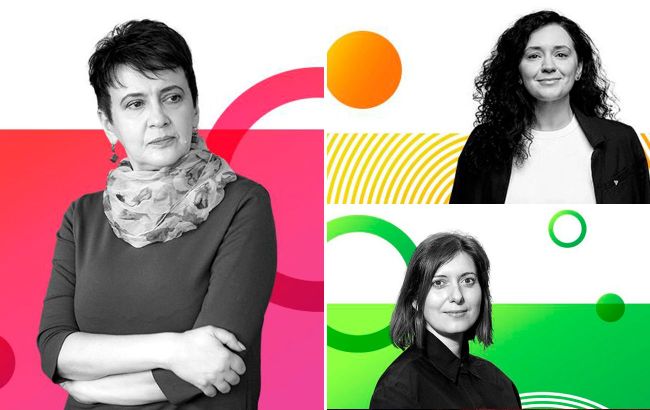 Who was included in the list of 100 women who influenced the world (collage: RBC-Ukraine)
The BBC unveiled its list of 100 influential women for 2023, featuring climate policy advisor Iryna Stavchuk, writer Oksana Zabuzhko, and children's rights advocate Olena Rozvadovska. Notable figures like human rights activist Amal Clooney, feminist Gloria Steinem, former US first lady Michelle Obama, Ballon d'Or winner Aitana Bonmati, and Russian poet Daria Serenko, a coordinator of the Feminist Anti-War Resistance, also made the prestigious list, reports BBC.
Iryna Stavchuk - a climate policy advisor
Iryna Stavchuk collaborates with the independent philanthropic movement "European Climate Fund." In this role, she spearheads Ukrainian programs focused on fostering environmentally friendly and climate-resilient solutions for the nation's post-war recovery.
Formerly the Deputy Minister of Environmental Protection and Natural Resources of Ukraine from 2019 to 2022, Stavchuk is a co-founder of the Center for Environmental Initiatives "Ecoaction" and the "Kyiv Cyclists'​ Association." Additionally, she coordinates the efforts of regional public groups addressing climate change issues.
Iryna Stavchuk (photo: BBC)
Oksana Zabuzhko - a writer
Oksana Zabuzhko is celebrated as one of Ukraine's foremost writers, poets, and intellectuals in the contemporary era. Renowned for her novels "Fieldwork in Ukrainian Sex" and "Museum of Abandoned Secrets," Zabuzhko earned recognition for her literary contributions. She holds a degree from the Faculty of Philosophy of the Taras Shevchenko National University and successfully defended her PhD thesis on the philosophy of art.
Zabuzhko's literary works, translated into 20 languages, have garnered prestigious accolades, including the Angelus Central European Literature Award, the Taras Shevchenko National Prize, and the Order of the Legion of Honor of France.
Oksana Zabuzhko (photo: BBC)
Olena Rozvadovska - a defender of children's rights
Olena Rozvadovska is a dedicated advocate for children's rights, working to help Ukrainian children cope with the trauma of war. In 2019, she founded the "Voices of Children" charitable foundation, which offers crucial psychological support to young Ukrainians.
Prior to establishing the foundation, Olena volunteered for four years in the frontline areas of Donbas. Throughout its existence, the organization has provided assistance to tens of thousands of children and parents. Rozvadovska played a role in the production of the documentary "House of Chips," depicting a children's shelter, which was nominated for the 2023 Oscars. Additionally, she co-authored the book "War through the Voices of Children" with her team.
Olena Rozvadovska (photo: BBC)