How school year will start in Ukraine with three formats of studying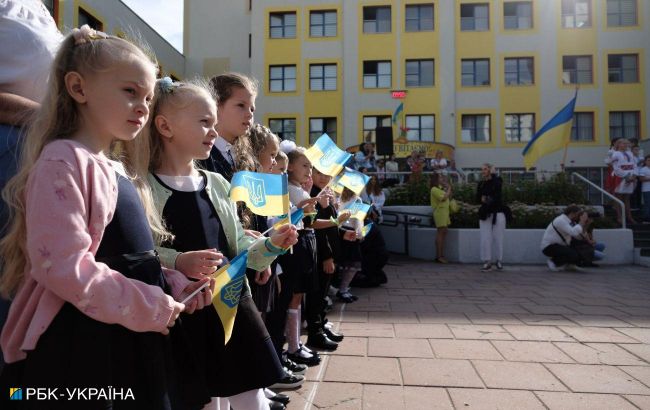 Photo: The school year in Ukraine starts on 1 September (Vitalii Nosach/RBC-Ukraine)
This week, the second academic year starts in the context of Russia's full-scale invasion. Accordingly, the war directly affects the organization of the educational process.
In-person, remote, and mixed formats
Due to the security situation, starting from 1 September, schools will operate in three formats: in-person, online (remote), or mixed. According to Prime Minister Denys Shmyhal, the final decision is up to local authorities. However, if there is a threat to the life or health of children, there will be no face-to-face education.
"Local authorities understand the situation in their communities best, and therefore the final decisions on the format of education will be made on the ground," he said.
Full-time or blended learning is possible if the school is equipped with shelters in case of air attacks. According to the Ministry of Education and Science, about 80-85% of Ukrainian schools will be able to start the school year in these formats.
In addition, schools must work out evacuation plans for students to shelters and conduct appropriate training.
As a rule, this applies to settlements in the rear, as the authorities of the frontline regions have opted for distance learning. Especially in those areas that are within range of S-300 missiles and multiple-launch rocket systems.
At the same time, if parents in relatively safe regions do not agree with full-time education, they can choose an alternative form: distance, family (home), or external education.
If the school does not have enough shelters for all students and teachers, it is allowed to organize the educational process in shifts: during the day, week, month, or semester.
In primary school, classes should preferably be held in person, taking into account the need for children's socialization.
In general, it is expected that out of 13,000 Ukrainian schools, 6,500 will operate in a regular format, 3,800 in a mixed format, and the rest in a remote format.
In the mixed format, it is recommended that practical and laboratory classes be held in person, while lectures are held online.
As for universities, institutes, and colleges, they are recommended to switch to classroom training as much as possible. But only if there are shelters on their premises.
Festive celebrations
The decision on whether to hold traditional line-ups on 1 September, unless prohibited by regional authorities, is up to each school.
For example, the authorities in the Volyn region are not against line-ups, but ask that celebrations be limited. Some schools have announced that they will hold them only for the first and final grades.
Photo: Ukrainian schools are reluctant to hold line-ups on 1 September (Vitalii Nosach/RBC-Ukraine)
It is expected that up to 85% of schoolchildren in Chernihiv will start the educational process in a face-to-face mode. More than a hundred remote classes have been set up for nearly 3,000 children. There will be no festive line-ups in the city.
The Poltava Regional Military Administration (RMA) has banned line-ups. Recently, the head of the regional military administration, Dmitry Lunin, said that this decision was made at a meeting of the regional defense council.
School year schedule
The Ministry of Education and Science reminds that the school's pedagogical council independently determines the structure and duration of the school day, week, classes, and forms of organization of the educational process.
The city authorities have already announced that the school year in Kyiv will run from 1 September to 31 May. In particular, the first semester will run from 1 September to 22 December, and the second from 8 January to 31 May. The last call is also scheduled for 31 May.
School holidays are tentatively scheduled for the following periods:
fall - from 23 to 29 October 2023
winter holidays - from 23 December 2023 to 7 January 2024
spring - from 25 to 31 March 2024
Additional holidays for first-graders will be from 19 to 25 February 2024.
It is worth noting that, according to the decision of the Cabinet of Ministers, the school year will last until 28 June 2024. However, this means that this is the deadline for completing all compensatory classes and exams.
Peculiarities in the regions
Kyiv
The capital is preparing for the school year in a full-time format. As of August, shelters have been provided:
83% of kindergartens
91% of schools
95% of vocational and technical education institutions
75% of higher education institutions
Separate underground shelters will be built for several schools. The pilot projects are scheduled to be implemented by the end of the year.
Photo: Full-time education is possible only if there are shelters in schools (Vitalii Nosach/RBC-Ukraine)
Kyiv region
More than 1,200 shelters have been set up in schools in the Kyiv region. According to Zhanna Osypenko, deputy head of the Kyiv Regional State Administration, the authorities are doing everything possible to ensure that the school year starts in a full-time format wherever possible.
Volyn region
Recently, the Regional Commission on Technogenic and Ecological Safety and Emergency Situations recommended that classes start in person where the security situation allows. The availability of a shelter in the school is a basic requirement.
Compared to last year, the number of schools that can accommodate students has increased to 765. The remaining schools have to work out the shortcomings and then they will be allowed to change the format.
Dnipropetrovsk region
The regional authorities promise that, where possible, students will return to their desks. It is expected that 565 schools, lyceums, and gymnasiums will operate in full-time or mixed mode. The rest will work remotely.
In Dnipro itself, the mixed form is offered according to the scheme of 80% of the time at the desks, 20% - online. In schools where the shelter cannot accommodate all teachers, there will be two shifts. Junior school from 08:00 to 11:25, senior school from 12:00 to 16:25.
Donetsk region
The situation does not allow for offline education. However, communities are setting up shelters to provide at least a mixed format where possible.
The educational process is planned to resume in 270 schools. Sloviansk, Sviatohirsk, Kramatorsk, and Pokrovsk have already announced distance learning.
Zakarpattia region
About 90% of educational institutions (511) will start the new school year offline, while the rest (66) will start in a mixed format.
Some schools have shortcomings, such as the lack of fire extinguishers in shelters, medicines or first aid kits, and water supplies, but they should be fixed by 1 September.
Zaporizhzhia region
The school year will start in a remote format. The authorities continue to arrange shelters. The decision may be reconsidered after the security situation improves.
Mykolaiv region
As of mid-August, only 75 schools were prepared for the in-person format. Therefore, from 1 September, the majority will work remotely.
"Schools that are legally and physically ready to open, not just simple shelters, but bomb shelters and radiation shelters, are 75 out of a thousand and something. Given the situation, we are currently discussing the potentially dangerous areas where it will be difficult to respond to an air raid alarm," said Vitalii Kim, head of the Mykolaiv Regional Civil Defense Agency.
Photo: Children will return to their desks only in safe regions (Vitalii Nosach/RBC-Ukraine)
Odesa region
It is planned that 641 schools (88 percent) will start the school year in a full-time format. More than 200,000 students, including more than 6,500 IDPs, will be able to study offline.
In Odesa itself, shelters have been set up in most schools. They will also organize transportation of students from schools that do not have such facilities.
Lviv region
Only 7 out of 1,093 schools will start the new school year in distance learning as they are not equipped with shelters.
Poltava region
Schools will accept about 136,000 students. According to Dmytro Lunin, head of the Poltava Regional Military Administration, local communities have made great efforts to ensure that schools are provided with shelters as much as possible. Currently, this figure is 95.4%.
Kharkiv region
According to the local regional administration, only 3% of schools - 17 - will start the educational process in a mixed form if shelters are available. So will 5 more universities and 12 colleges. The rest will start online learning.
In Kharkiv, lessons for junior high school students will be held in the subway. For this purpose, special rooms will be equipped at the stations. It is expected that 60 classes of 1,000 children will attend lessons in the subway several times a week.
Kherson region
Due to constant shelling, the school year in 190 schools will be held online.