Successful strikes by Ukrainian Armed Forces on Russians in the south of Ukraine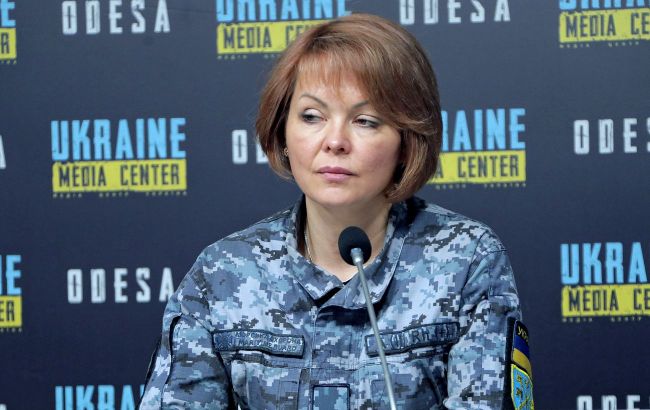 Natalia Humeniuk, the spokesperson for the Security and Defense Forces of the South of Ukraine (Photo: Getty Images)
According to the statement of Natalia Humeniuk, the spokesperson for the Security and Defense Forces of the South of Ukraine, made during a TV interview, recent strikes against the enemy's logistics in southern Ukraine have proven to be quite effective. This is evidenced by a reduction in the intensity of shelling from the Russian side.
Ukrainian Defense Forces in the southern part of Ukraine, specifically in the Kherson region, continue their counter-battery combat.
Humeniuk pointed out that Russian occupying forces are employing a strategy where they target shelling of the right bank and the opposite shore of the Dnipro-Buzkyi Lyman at a rate of 70, but the number of projectiles has significantly decreased. While previously this number stood at 400-500, currently the enemy is using up to 300 projectiles per day. This indicates that the strikes on their logistics and supply lines have yielded notable results, as stated by the spokesperson.
Humeniuk also added that the Ukrainian Armed Forces are pressing against the enemy to drive them out from the left bank of the Kherson region. She mentioned that the defenders are currently operating remotely, utilizing artillery. In the past day, two enemy howitzers and a boat carrying a reconnaissance and sabotage group were eliminated.
Furthermore, as the spokesperson highlighted, over the course of a day, Ukrainian soldiers in the south managed to neutralize an enemy command and observation post, as well as a control center, resulting in the elimination of 55 occupiers.
Humeniuk explained that the occupiers have recently become more active in geographically challenging areas of the terrain, particularly in places with islands and waterways. They are attempting to conduct reconnaissance operations.
"In particular, to cover their actions, they intensify their shelling of populated areas closer to the delta. Yesterday, they suffered the most. Bilozirka was heavily shelled. Eight civilians were injured, some of them severely. It's characteristic that the Russians are once again targeting areas where people gather - a church, administrative building," the spokesperson elucidated.
Ukrainian Armed Forces on the left bank of the Kherson region?
The Institute for the Study of War (ISW), citing Russian sources, recently claimed that Ukrainian forces had landed on the left bank of the Dnipro river in the Kherson region and allegedly penetrated the Russian defense up to 800 meters.
However, the Ukrainian Ministry of Defense later refuted the information about the alleged breakthrough by the Ukrainian Armed Forces.
Additionally, the Main Directorate of Intelligence of the Ministry of Defence of Ukraine reported that reconnaissance fighters of the "Shaman" battalion carried out an operation on the left bank of the Kherson region and destroyed a unit of Russian missile troops.