Strike on Russian Black Sea Fleet HQ in Sevastopol: New photo emerged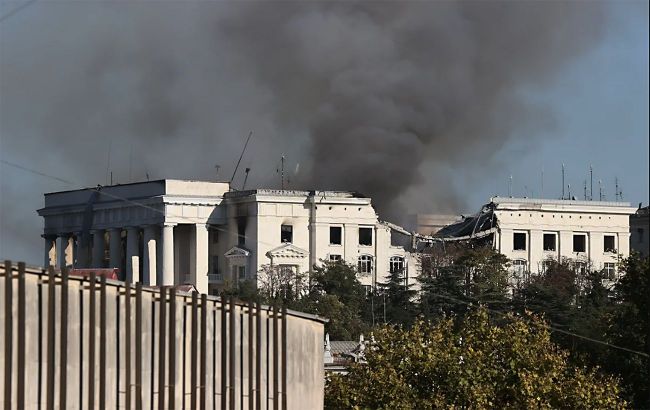 The media showed a new photo of the aftermath of the strike on the headquarters of the Russian Black Sea Fleet in Sevastopol (Photo: Russian media)
The building of the Russian Black Sea Fleet headquarters in Sevastopol has suffered significant damage due to the strike by Ukrainian military forces, according to Agentstvo (Agency). News on Telegram.
The news agency released a photo of the headquarters, which was taken up close. It shows the scale of the destruction.
Photo: Consequences of the Strike on the Headquarters of the Russian Black Sea Fleet (t.me/agentstvonews)
"The photo shows that the building's floors have been destroyed, and there is chaos inside," the journalists specify.
Attack on the Russian Black Sea Fleet Headquarters
A few weeks ago, the Ukrainian military attacked the headquarters of the Russian Black Sea Fleet in Sevastopol. A strong fire broke out after the strike.
According to the Special Operations Forces, 34 officers were killed in the attack, including Vice-Admiral Viktor Sokolov, the commander of the Russian Black Sea Fleet. Another 105 people were injured.
However, information about the commander is still being clarified, as the Russians released a video of his participation in a meeting of the Russian Ministry of Defense's collegium.