Strike on Hroza, Kharkiv region: New details emerge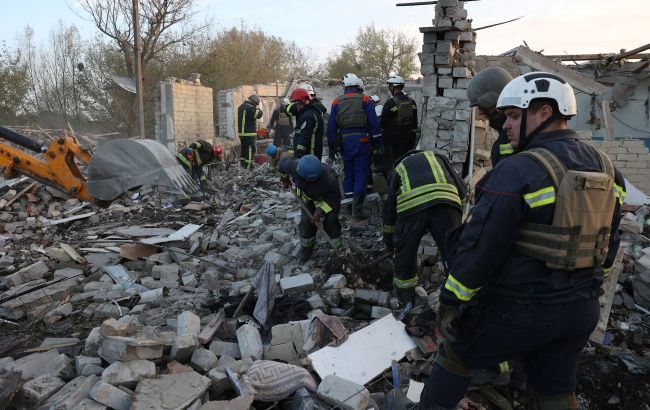 The Russians launched a missile strike on the village of Hroza (Photo: Getty Images)
In the cafe of the village of Hroza, where a Russian missile struck today, a funeral service was being held for a deceased Ukrainian soldier who had recently been reburied. The son of the deceased, who was also a serviceman, was present at the funeral, according to a statement by Dmytro Chubenko, the spokesperson for the Kharkiv Regional Prosecutor's Office.
"The funeral service was held due to the reburial of the deceased Ukrainian soldier. He had originally been buried in Dnipro, but his relatives wished to have him reburied in the village of his origin," he said.
The spokesperson for the prosecutor's office adds that the burial was organized by the family of the deceased soldier, including his son and wife.
"The son of the reburied soldier was also a serviceman. He, along with his wife and mother, were at the cafe and tragically lost their lives due to the missile strike," Chubenko further explained.
Missile strike on Hroza
Earlier today, Russians launched a missile strike using an Iskander missile on the village of Hroza in the Kharkiv region. The missile struck a building that housed a store and a cafe where a funeral service was being held for the deceased soldier.
As a result of the rocket strike, 51 people lost their lives, and another 6 were injured. Approximately 60 people were in the vicinity of the missile's impact zone. Rescue workers have now completed the debris removal at the site of the strike.
The Ukrainian Ministry of Internal Affairs indicated that the Russian attack was highly accurate since it hit a small building. Therefore, it is likely that someone local may have guided the strike. This possibility will be investigated.