Stoltenberg pledges to help Ukraine with air defense ahead of winter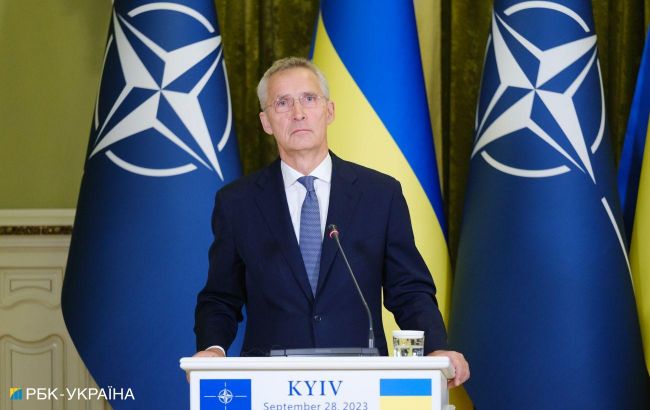 NATO Secretary-General Jens Stoltenberg (Vitalii Nosach, RBC-Ukraine)
NATO states are expected to assist Ukraine with air defense systems ahead of winter, considering possible Russian preparation for critical infrastructure attacks, as Ukrainian President Volodymyr Zelenskyy says during a press conference.
He notes that he discussed all key defense issues with NATO Secretary-General Jens Stoltenberg during his visit to Kyiv. They also discussed the situation on the battlefield and the needs of Ukrainian soldiers.
"I am confident that we can continue to pressure the aggressor so that Russia only retreats and loses ground. This is the right tactic," he said.
The President and the Secretary-General also discussed protection against Russian terrorism. Zelenskyy mentioned that Russian occupiers used over 40 Shahed drones last night alone. And that happens nearly every night.
"In the face of such intensive attacks against Ukrainians, against our cities, against our ports, which are vital for global food security, we need the appropriate intensity of pressure on Russia and the strengthening of our air shield. The world must see how Russian terrorism fails so that our shared values eventually prevail," he added.
Political leaders also raised the issue of possible Russian attacks on Ukraine's critical infrastructure and the need to provide assistance to Ukraine, including air defense systems.
"The Secretary-General agreed to make efforts to help and support us in this matter, to mobilize Alliance member states specifically for this purpose. We need to get through this winter together, protect our energy infrastructure, and people's lives," Zelenskyy concluded.
Russian attacks on Ukraine's critical infrastructure
Russia massively targeted Ukraine's energy sector last year, leading to power outages and even heating failures during the winter.
This year, Ukraine is establishing a multi-level defense system for energy facilities.
Ukrainian officials say that if the Russians stop targeting the country's energy facilities, the energy system will operate normally during the winter.
Otherwise, Ukraine's air defense systems will try to intercept enemy targets as much as possible to protect the infrastructure that has been restored over the past six months.