Source of will and indomitability: Zelenskyy congratulates Ukrainians on Flag Day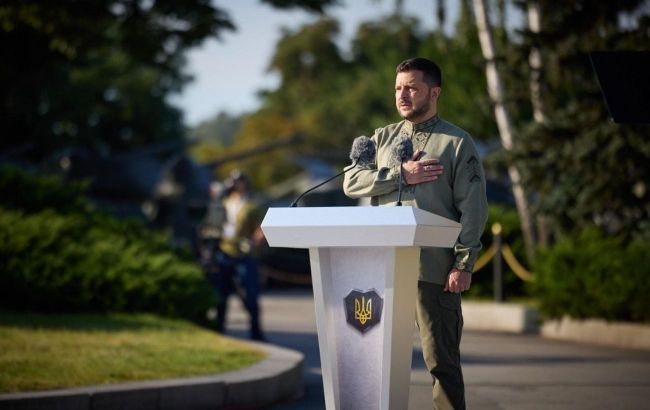 President of Ukraine Volodymyr Zelenskyy (president.gov.ua)
On National Flag Day, a special flag was raised in Kyiv, the one that has been to military positions along the entire front line. It bears the signatures of Ukrainian defenders who are fighting for Ukraine's independence, according to a statement by Ukrainian President Volodymyr Zelenskyy.
"Our flag is our confidence. Confidence that it will always fly where it should rightfully be. Throughout the sovereign territory of Ukraine. Unwavering faith in this resides within each and every one of us. Our flag is our strength. It is a source of will, unbreakable spirit for all the warriors who go into battle with this flag on their armor and under their hearts, fight for every meter of our land, go forward and will reach our victory," said the President.
Zelensky added that the national flag is a memory and a tribute to all Ukrainian heroes of different times who defended Ukrainian land and gave their lives for Ukraine and all Ukrainians. He emphasized that we will always remember our heroes.
Volodymyr Zelenskyy emphasized that today a special flag of Ukraine was raised in Kyiv: Ukrainian defenders who are fighting for the freedom and independence of our country left their signatures on it.
"This flag was in the positions of our warriors from Chernihiv to Odesa. Along the entire defense line of Ukraine. In various combat brigades and units. In hospitals where the wounded undergo treatment. In the hands of volunteers," Zelenskyy said.
The head of state stressed that this flag will always keep the memory of many Ukrainians, but it will certainly be replenished and enriched with new signatures of Ukrainian warriors.
After today's ceremony, anyone interested can see it at the National Museum of the History of Ukraine in World War II in Kyiv.
The President emphasized that there will come a time when all of our free and peaceful Ukraine will be able to see this special flag.
Today, on August 23, Ukraine celebrates National Flag Day.
The year 1848 is considered the date of approval of the Ukrainian flag when, during the events of national revival in Galicia, the Main Rus Council in Lviv adopted official symbolism.