Russians using new tactics for strikes: Launching Kalibr from the Azov Sea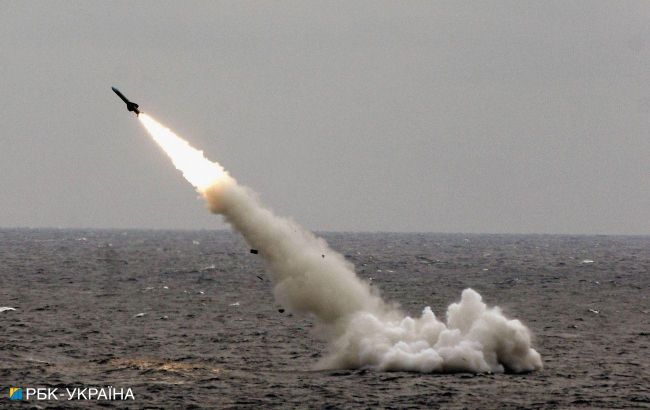 Russians launch Kalibr from the Sea of Azov for the first time (Photo: Getty Images)
Russian military forces are attempting to devise new tactics for striking Ukraine, aiming to bypass our air defense systems. Tonight, invaders launched Kalibr missiles from the Azov Sea for the first time, according to Natalia Humeniuk, the Head of the United Coordinating Press Center of Security and Defense Forces of the South of Ukraine, and Yurii Ihnat, the spokesperson of the Air Forces Command of the Armed Forces of Ukraine.
Russian aggressors attacked the southern regions of Ukraine, including the Odesa region, on the night of August 25th. One of the enemy's objectives was to destroy our country's port infrastructure.
Humeniuk noted two waves of Russian attacks on the southern regions at night.
Initially, the occupiers employed tactical aviation – launching two X-35 missiles from Su-35 fighters towards one of the ports in the Odesa region. These missiles managed to evade the air defense forces.
Several hours later, the aggressors targeted the Odesa region with two Kalibr missiles launched from a missile carrier in the Azov Sea. Our military also managed to intercept and destroy these missiles.
Humeniuk pointed out that such an attack signifies the Russians' attempt to find new tactics and directions to circumvent our air defense systems. She added that there were no casualties or damages due to the meticulous work of Ukrainian air defense.
Yuri Ihnat, spokesperson for the Air Force, added that the invaders utilized tactical aviation along the demarcation line and in the southern regions.
According to him, two guided aviation missiles initially headed toward the Mykolaiv region, then altered their course towards Odesa.
He noted that a launch of Kalibr missiles from the Azov Sea concealed among this aviation activity.
"These missiles also headed towards the southern regions. Interestingly, one Shahed this time was launched from the Prymorsko-Akhtarsk area," he said.
Furthermore, he emphasized that the focus shouldn't be placed on the launch of Kalibr missiles from the Azov Sea, as the launch location of this weapon type holds no significance for the aggressors.
Nighttime shelling of Ukraine
The Russians launched missile attacks against the Odessa region twice this night. All of the missiles were intercepted, and no information about damages exists.
In addition, air defense forces managed to destroy a missile and a drone in the Dnipropetrovsk region. However, debris caused damage to a private house and a gas pipeline.
Ukrainian fighters intercepted and destroyed four missiles within the Odesa region and one Shahed missile in the Dnipropetrovsk region.