Russians shell trolleybus in Kherson: policeman killed, two passengers wounded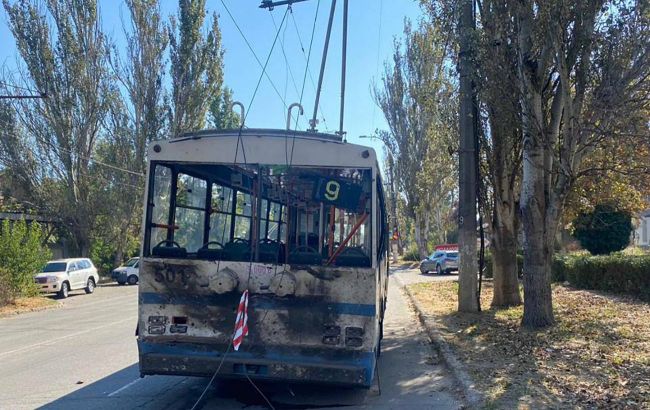 Russians shell trolleybus in Kherson: policeman killed, two passengers wounded (t.me/Klymenko_MVS)
Russian forces launched an attack on a trolleybus in Kherson on Tuesday, September 19, resulting in the tragic death of a senior police sergeant and injuries to two other passengers, according to Roman Mrochko, the head of the Kherson Regional Military Administration.
"At 09:35 today, Russian forces shelled the Korabelnyi district of Kherson, hitting trolleybus No. 9 on Naftovykiv Street," he wrote.
According to Mrochko, two individuals were wounded due to the enemy attack and have been transported to the hospital.
"Sadly, a senior police sergeant who was nearby died," Mrochko added.
Ihor Klymenko, the head of the Ministry of Internal Affairs of Ukraine, said that earlier in the morning, a 49-year-old police sergeant lost his life in Kherson as a result of Russian artillery shelling.
"Also, a storage building caught fire due to enemy strikes. Firefighters are battling a blaze covering an area of approximately 1000 square meters. All necessary services are on-site. We are working," he wrote.
According to the Ministry of Internal Affairs of Ukraine, police officer Andrii Tarchynskyi was killed in Kherson as a result of Russian shelling.
"Andrii was a peacekeeper in Bosnia and Herzegovina, Kosovo, and after the annexation of Crimea in 2014, he volunteered to join the Kherson Special Police Patrol Service company and ended up in the Ilovaisk cauldron," the statement read.
He sustained serious injuries during the battles for Ilovaisk when he was rescuing soldiers, but got out of the enemy's encirclement.
Shelling of Kherson
Kherson has been deoccupied since November of last year. Nevertheless, given that parts of the Kherson region remain under Russian occupation, the city continues to face constant shelling from tanks and artillery. For instance, on September 18, Russian invaders shelled the Ostriv microdistrict in Kherson, resulting in a civilian being wounded.
On September 17, Russian forces also targeted the Kherson region, causing injuries to a law enforcement officer and resulting in the loss of a civilian's life.