Occupants shell high-rise building in Zaporizhzhia: Dead and wounded reported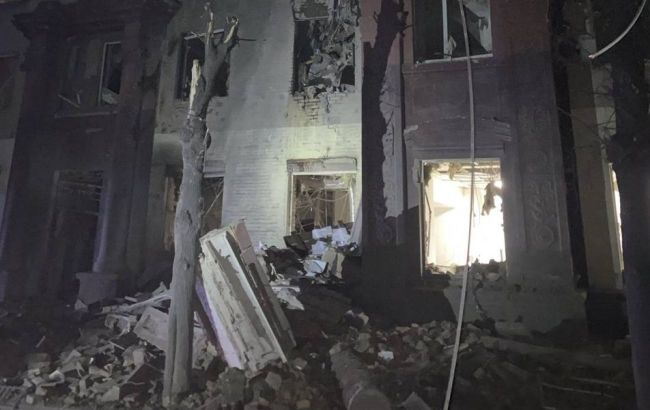 Consequences of the attack on Zaporizhzhia (GettyImages)
On the night of October 18, Russians launched six missiles towards Zaporizhzhia, resulting in at least one fatality and two people injured, according to Yurii Malashko, the head of the Zaporizhzhia Regional Military Administration.
According to Malashko, the attack occurred between 1:33 AM and 1:48 AM. The exact type of missiles used by the Russians is still being determined.
One of the strikes hit a multi-story building in the city center.
"Unfortunately, as a result of the terrorist attack, one person has been killed, and at least two others have been wounded. Eight apartments have been damaged," he said.
Malashko added that the residents of the building have been evacuated and will be provided with temporary accommodation.
Later, Anatolii Kurtyev, the acting mayor of Zaporizhzhia, said that the building had been destroyed as a result of the strike.
"Regrettably, there are casualties and injuries. At this time, we are aware of one fatality, as well as injured and traumatized individuals."
He also mentioned that a search and rescue operation is underway, with all relevant services on the scene, municipal buses deployed, and the nearest crisis center activated.
Death toll rising
Kurtyev later confirmed that there were two fatalities and four injured individuals. Additionally, three people are considered missing.
Apartments in two sections of the building have been partially destroyed.
Footage of the aftermath
Shelling of Zaporizhzhia
Russians have frequently shelled Zaporizhzhia, often using ballistic missiles or modified munitions from the S-300 system. On the night of October 18, explosions once again resounded in the city, prompting air raid alerts in the region.
Prior to this, on the night of October 15, occupiers launched three S-300 missiles at Zaporizhzhia. Another missile strike occurred during the day.