Russians increase tension before potential shelling of Ukraine's energy sector - Defense forces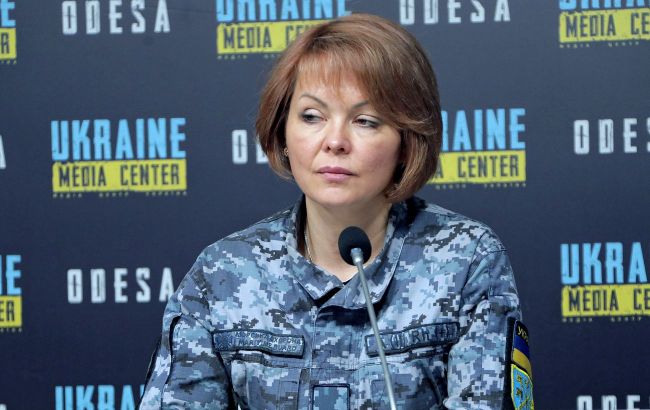 Natalia Humeniuk, spokeswoman for the Southern Ukrainian Defense Forces (Getty Images)
Recently, there has been an observed buildup of tactical aviation among Russians, escalating tensions ahead of potential attacks on Ukraine's energy infrastructure this winter, according to the spokesperson for the Southern Defense Forces of Ukraine, Natalia Humeniuk.
"We can conduct some analysis, including monitoring the activity at strategic aviation airfields, understanding that missile carriers from naval bases may also be deployed," said Humeniuk.
She added that the Russians are also preparing tactical aviation, including trials with in-air refueling, indicating a concerted effort to increase tension before the anticipated cold weather and the threat of energy infrastructure shelling.
According to the spokesperson, there is currently a small concentration in the Black Sea, but the occupiers have deployed a frigate armed with eight Kalibr missiles ready for use.
"There has been a long absence of surface and submarine missile carriers on duty. They were hiding in base points due to very moderate conditions. Now the sea is moderate, and the frigate can withstand such weather. It is not ruled out that even hiding behind such weather conditions, the enemy may still use sea-based missile carriers," added Humeniuk.
Ukraine is preparing for Russian attacks in winter
Ukrainians are warned about the possibility of new mass shelling by occupiers during the fall and winter. The target for Russians could be Ukraine's energy infrastructure. Analysts and experts believe that this winter, the occupiers will not be able to leave Ukrainians without electricity.
Preparing for winter, Ukrainian engineers underwent training in Britain. The program's goal is to protect the energy sector in the event of possible Russian attacks.
The Ukrainian military intelligence confirms that Russia is accumulating missiles for repeated mass attacks. However, according to intelligence reports, the scale of the shelling is expected to not be as massive as last year.