Russians forming assault units from prisoners in Luhansk region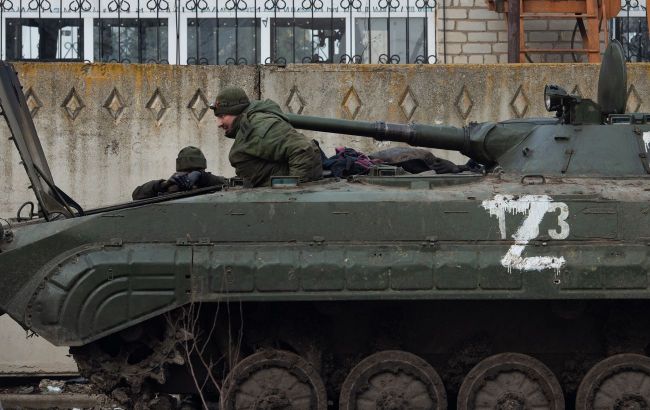 Russian occupiers (Photo: Getty Images)
In the temporarily occupied territory of the Luhansk region in the northern part, Russian invaders are forming Storm-Z units in field camps, mainly composed of prisoners. These groups are used by the enemy to carry out assaults under the cover of regular army mechanized forces, according to the head of the Severodonetsk District Military Administration, Roman Vlasenko.
Such field camps are being formed by the occupiers in the Starobilsk district of the Luhansk region, and there is ample evidence of this, according to the official.
There, Russian interveners are trying to train representatives of the PMCs. They stay in these camps for about a week to ten days, after which they are sent to the front lines as infantry to the mechanized units of the Russian armed forces, says the head of the District Military Administration.
Vlasenko pointed out that the Storm-Z units employ the tactic of human wave assaults, which was previously practiced by the leader of the PMC Wagner. This means that training is conducted, aviation is involved, and then infantry advances in waves, covered by the mechanized units of the Russian armed forces.
Vlasenko also revealed that the occupiers were attempting to compensate for the loss of their initiative in ground operations through artillery shelling and the use of aviation. According to him, there is currently no ammunition shortage in the Luhansk region.
Tactics of Russian occupiers
In eastern Ukraine, particularly in the Kupiansk direction, where the occupiers have been trying for some time to break through the defenses of the Ukrainian Armed Forces, they continue to employ the tactic of human wave assaults. As recently noted by the head of the press service of the Operational Command East of the Armed Forces of Ukraine, Ilia Yevlash, the enemy is also continuing to form its main force there.
At the same time, in southern Ukraine, Russian forces may have shifted to a new tactic in attempts to halt the counteroffensive of the Ukrainian Armed Forces in the Zaporizhzhia region. As previously reported by The New York Times, citing Ukrainian military sources, the occupiers had started setting minefields on fire.