Russians continue to circulate videos featuring 'alive' commander of the Black Sea Fleet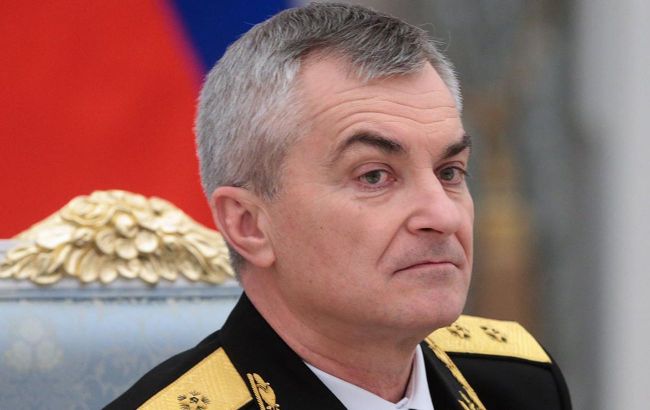 Photo: Viktor Sokolov (Russian media)
Russian propagandists have released new videos featuring the commander of the Russian Black Sea Fleet, Vice Admiral Viktor Sokolov, amidst reports of his elimination. Supposedly, he was "presenting awards to athletes."
Pro-Russian Telegram channels have shared two videos of Sokolov today. In the first one, he appears to be at an awards ceremony for a football team that won an army championship.
Although the filming date is unknown, it is worth noting that the championship concluded on September 18, four days before missiles struck the Russian Black Sea Fleet headquarters in occupied Sevastopol on September 22.
In the second video, Sokolov conventionally talks about the "successes of the fleet," without specifying any dates that would help identify when the footage was taken.
"​The Black Sea Fleet confidently and successfully carries out the tasks set before it by the command. You know that the heroic deeds of our marines are practically constantly on the central television screen," said the admiral during his visit to the Officer's House.
What is known about the possible elimination of the commander of the Black Sea Fleet?
On September 22, a missile strike was directed at the headquarters of the Black Sea Fleet in Sevastopol.
According to the Special Operations Forces data, 34 officers were killed, including the commander of the Russian Black Sea Fleet, Vice Admiral Viktor Sokolov. Another 105 people were injured. As reported in the media, Russia lost its fleet commander for the first time in over 100 years.
Meanwhile, yesterday, the Russian Ministry of Defense released a video allegedly featuring the "alive" admiral. He purportedly participated in a collegium meeting.
Subsequently, the SOF of Ukraine stated that they were verifying information about the death of the Black Sea Fleet commander.
In turn, Ukrainian Defense Minister Rustem Umerov neither confirmed nor refuted Sokolov's death. Meanwhile, the White House also responded that they could not currently confirm information about the death of the Russian admiral.
At the same time, the partisan movement Atesh learned that the Russians intentionally spread rumors about an attack on the Black Sea Fleet headquarters, which could be indicative of Sokolov's elimination or serious injury.