Russian submarine in Black Sea: Number of missiles on it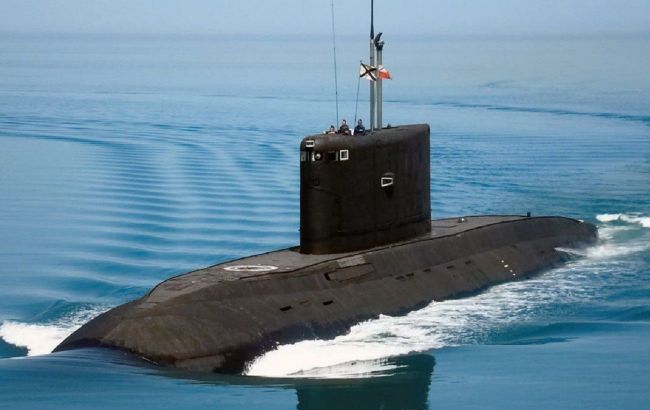 Illustrative photo (mil.ru)
Russian occupiers currently have 9 vessels on active duty in the Black Sea, including one submarine potentially armed with Kalibr missiles, according to the head of the United Coordination Press Center of the South Ukrainian Defense Forces, Natalia Humeniuk.
The officer said that there is currently a storm in the Black Sea region, making it difficult for the Russian Navy's surface vessels to stay at sea.
"The sea is siding with is, it has been quite stormy... with waves reaching 4-5 points, it's a big sea storm. Therefore, so the surface launchers were brought to their basing points a day before the storm started, and now only the submarine launcher is on duty. It is armed with up to four Kalibr type missiles," she explained.
Humeniuk also reminded of the increased danger to citizens in case of missile attacks from submarines.
"Detecting launches from a submarine can be more challenging for anti-aircraft defense systems. So when we talk about such a threat, it's crucial to keep in mind that there are only a few minutes to seek shelter, and you should not delay," added the representative of the South Ukrainian Defense Forces.
"At present, the naval group continues to stay in the same area where they believe it's relatively safe - from the eastern coast of Crimea to the Russian-held Novorossiysk. There are only nine of them. It's evident that due to the storm, they will be returning to their bases," Humeniuk reported.
Furthermore, she added that another hostile ship is monitoring the situation in the Azov Sea.
Russian nighttime attack on October 17
Russian forces launched another combined attack against Ukraine last night, using missiles and kamikaze drones. As reported by the Ukrainian Air Force command in the morning, the adversary conducted a missile and aerial attack, employing guided aviation missile Kh-59, anti-aircraft guided missiles S-300, and 6 offensive UAVs of the Shahed-136/131 type.
Ukrainian Air Defense Forces successfully intercepted one guided aviation missile Kh-59 and 6 hostile Shahed-136/131 drones.