Russian overnight attack: missile threat in various regions, air defense activated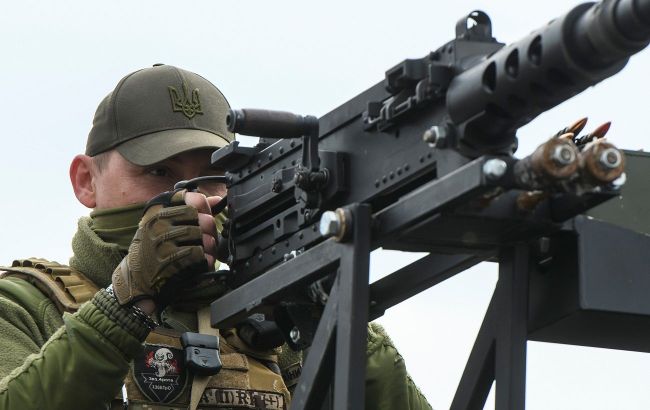 Ukrainian soldier (Getty Images)
Air raid alarms were announced in various regions of Ukraine overnight on Thursday, July 27, due to the threat of enemy missile and combat drone attacks. The air defense was activated, explosions were reported in the Khmelnytskyi region, according to the Ukrainian Air Force's Telegram.
The military declared a missile threat in the southern part of Ukraine around 3 a.m., along with the risk of the enemy using kamikaze drones for aerial attacks.
Residents of Odesa were urgently advised to go to bomb shelters due to the threat of Russian launching Kalibr cruise missiles.
According to the Khmelnytskyi Regional Military Administration, explosions were heard in the region.
"Air defense is working. Stay in shelters! Take care of yourself and your loved ones!" the announcement read.
The alarms were canceled around 3:20 a.m. for the southern regions, and the threat of combat UAVs was also lifted for the central regions around 3:25 a.m. However, the alarm was still in effect in the Dnipropetrovsk region.
The alarms were canceled around 3:20 a.m. for the southern regions, with the Air Force command also reporting that the threat of drone attacks in the central regions had been eliminated.
At 03:25, the alert was canceled in the Khmelnytskyi region, but not in the Dnipropetrovsk region.
Map of air alerts in Ukraine on the night of July 27
Russian air attacks
The Russian occupiers continue to carry out aerial strikes on cities in Ukraine. On July 26, a large-scale air raid alarm was declared in response to the launch of Russian cruise missiles from the Caspian Sea region and an attempt to attack with hypersonic Kinzhal missiles from MiG-31K fighters.
Following the alarm, reports of explosions in the Khmelnytskyi region surfaced, and the Air Force command confirmed the activation of the regional anti-aircraft defense systems.
A spokesperson for the Ukrainian Air Force, Yurii Ihnat, disclosed that the target of the Russian attack was the area of Starokostiantynivka in the Khmelnytskyi region.
Later, the Commander of the Ukrainian Air Force, Lieutenant General Mykola Oleshchuk, said that Ukrainian air defense had destroyed 36 aerial targets, including 3 Kalibr cruise missiles and 33 Kh-101/Kh-555 cruise missiles.
Late in the evening, the Khmelnytskyi administration reported that the Russians attacked the region using four Kinzhal missiles. The air defense of the Ukrainian Armed Forces successfully intercepted and destroyed the enemy targets, resulting in debris falling in several populated areas of the region.