Russian helicopter transferred to Ukraine - Intelligence reveals operation details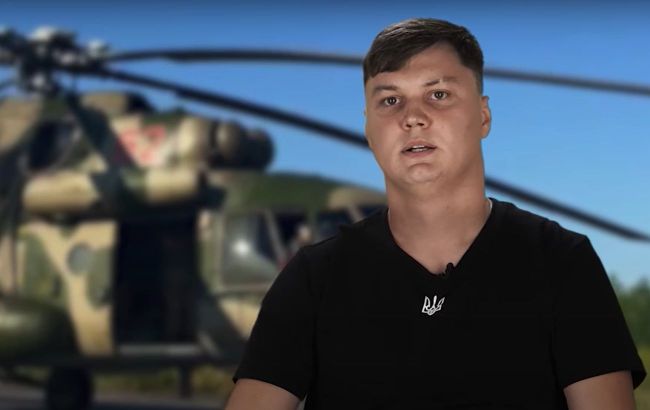 The Main Intelligence Directorate (GUR) provided details of the operation on how they lured the Russian Mi-8 helicopter into Ukraine (photo: screenshot from the video)
The Russian pilot of the Mi-8AMTSh PKS RF, who flew the helicopter into Ukraine during a unique operation conducted by the Main Intelligence Directorate of the Ministry of Defense of Ukraine (GUR MOU), cited his strong opposition to the Kremlin's aggressive war as the primary motive for his actions, according to the GUR MOU Telegram channel.
Yes, Ukrainian intelligence presented a documentary film about this operation titled "Downed Russian Pilots," in which the face of this pilot, who flew the Mi-8A helicopter into Ukraine as part of the special operation code-named "Sinytsia," is revealed.
According to the 28-year-old pilot, Captain, and commander of the Mi-8 helicopter, Maxim Kuzminov, he flew into Ukraine at an extremely low altitude.
The Russian pilot served in the 319th Separate Helicopter Regiment of the Army Aviation of the Russian Federation, military unit 13984, with a permanent base in the Primorsky Krai.
"I contacted representatives of Ukrainian intelligence, explained my situation. They offered me security guarantees, new documents, financial compensation, and rewards. We discussed the details and began planning my flight," Kuzminov said.
He also noted that the risky operation was kept secret and successfully completed because the Ukrainian intelligence managed to organize a safe corridor:
"I understood that I was near the border, so I transmitted my location... I flew at an extremely low altitude in radio silence. No one knew what happened to me. Probably for 3-4 days, no one understood what had happened. I landed successfully," said the Russian pilot.
He emphasized that he categorically rejects Russia's full-scale military aggression against Ukraine and does not want to be complicit in war crimes.
"What is happening now is simply genocide of the Ukrainian people, both Ukrainian and Russian. The basis of my action is not to contribute to these crimes. I know very well how it will end: Ukraine will undoubtedly win this war simply because the people have come together very cohesively. The whole world is helping because they understand that human life should be valued above all... No one wants this war," he explained.
Kuzminov also calls on other Russian pilots to follow his example and emphasizes that they "will not regret it at all."
"You will simply discover a world of colors. And remember: you simply don't know many things; you haven't seen how other people live. When you truly discover something, you will change your opinion radically," the officer said.
The GUR reminded that Ukraine provides all the guarantees of safety and rewards to Russian pilots who bring serviceable aviation equipment to Ukraine, as provided for by international law, state legislation, and relevant state programs.
The relocation of the Mi-8 helicopter from Russia to Ukraine
On August 23, rumors were actively spreading online that a Russian Mi-8 helicopter had allegedly flown into Ukraine and landed.
Online reports suggested that the helicopter pilots had supposedly "lost their bearings and ended up in the unoccupied territory of Ukraine," but when they realized where they were, it was already too late.