Russian forces transferred Kinzhal carriers to the occupied Crimea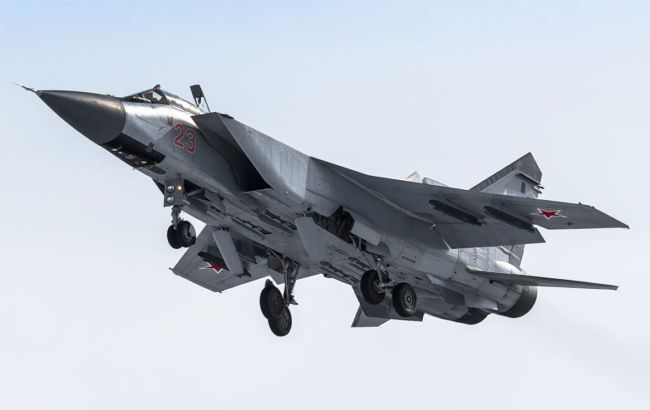 Russian forces have moved Kinzhal carriers to the occupied Crimea (photo: defence-blog.com)
Russian forces have relocated MiG-31 fighter jets, equipped to carry the Kinzhal missiles, to the Belbek airfield near the temporarily occupied city of Sevastopol, according to OSINT analyst MT Anderson.
Judging from the published satellite images, there are at least four MiG-31 fighter jets stationed at the airfield.
Additionally, in close proximity to the MiG-31s, there are Su-30 fighter aircraft, as well as Su-27 interceptors.
What is known about MiG-31
The MiG-31 is a Soviet-era two-seat supersonic all-weather interceptor fighter. It was developed in the 1970s based on the MiG-25 and is considered the first Soviet fourth-generation aircraft.
The primary mission of the MiG-31 is to intercept and destroy airborne targets at various altitudes. Initially, this fighter was designed for intercepting aviation-launched cruise missiles.
The MiG-31K serves as a carrier for the hypersonic air-launched missile Kinzhal. This missile is challenging to intercept due to its unique flight trajectory.
Putin's threats regarding the MiG-31K
Following a series of attacks carried out by Ukrainian military forces in the Black Sea, Russian leader Vladimir Putin declared that Russian MiG-31K fighters would patrol the skies over the Black Sea.
Up until the spring of 2023, Ukrainian forces had not successfully intercepted Kinzhal missiles. However, in May, Ukrainian air defense units achieved their first successful interception of a Russian Kinzhal using the Patriot missile system provided to Ukraine by its partners.