Russian attempts to sow Ukraine-Poland discord fails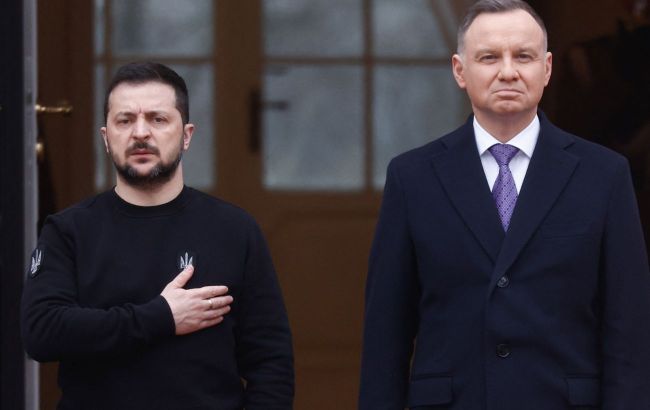 The Russians were unable to sow discord between Ukraine and Poland (photo: GettyImages)
Analysts note that Russia's strikes on Ukraine's port and grain infrastructure are part of a campaign aimed at deteriorating Ukraine's relations with its Western neighbors, including Poland.
However, these efforts have not been successful, as on September 22, Polish President Andrzej Duda clarified the previous statement of Prime Minister Mateusz Morawiecki that their country would no longer supply weapons to Ukraine. It turned out that they were only referring to new arms purchases that Poland is making for its own country. In other aspects, they will adhere to previous agreements regarding the supply of weapons.
"Poland's swift return to its commitments to Ukraine suggests that the Russian campaign may not be as successful as Moscow would like," noted ISW.
Key findings:
On September 22, Ukrainian forces launched drone and cruise missile strikes on the occupied Crimea, causing significant damage to the headquarters of the Russian Black Sea Fleet (BSF) in Sevastopol.

The Ukrainian strike on Sevastopol on September 22 attracted attention in the Russian information space.

Ukrainian forces have advanced to the south of Bakhmut, and it is reported that on September 22, they advanced in the western part of the Zaporizhzhia region.

On September 21, the U.S. Department of Defense announced a new security assistance package, providing Ukraine with $325 million worth of military equipment.

It is reported that the U.S. will soon deliver long-range tactical missile systems (ATACMS) to Ukraine.

Efforts by Russia to exacerbate tensions between Ukraine and its Central European partners appear to have failed, as on September 22, Polish Prime Minister Andrzej Duda confirmed the strength of Polish-Ukrainian relations.

The Ukrainian military promptly refuted Russia's claim that "Wagner Group" forces were operating in the occupied Kherson region.

It is reported that the Federal Security Service of Russia (FSB) is conducting an investigation into high-ranking officials of the Russian National Guard (Rosgvardia) regarding their possible involvement in the coup attempt by the "Wagner Group" on June 24.

Russian forces have launched offensive operations in the areas around Kupiansk, near Bakhmut, along the Avdiivka-Donetsk line, as well as in the western Donetsk region. It is also reported that they have advanced towards the administrative border between Donetsk and Zaporizhzhia regions.

It is further reported that the Russian government plans to increase defense spending by 4.4 trillion rubles (approximately 46 billion dollars) in 2024.
Poland-Ukraine conflict
In the spring of this year, Poland and several other European countries imposed an embargo on Ukrainian grain exports. Initially, this initiative was supported by the EU, but it has recently been lifted. However, Poland unilaterally decided to continue the ban, citing the need to protect its own agricultural market.
On September 20, Polish Prime Minister Mateusz Morawiecki announced that Poland had stopped supplying arms to Ukraine due to the modernization of the Polish army.
However, later, the government spokesperson for Poland, Petro Muller, followed by President Duda, stated that Poland is continuing to supply Ukraine with arms as per previously agreed contracts.
For more details on the conflict between Poland and Ukraine, you can read the article by RBC-Ukraine.