Russia withdraws ratification of nuclear test ban treaty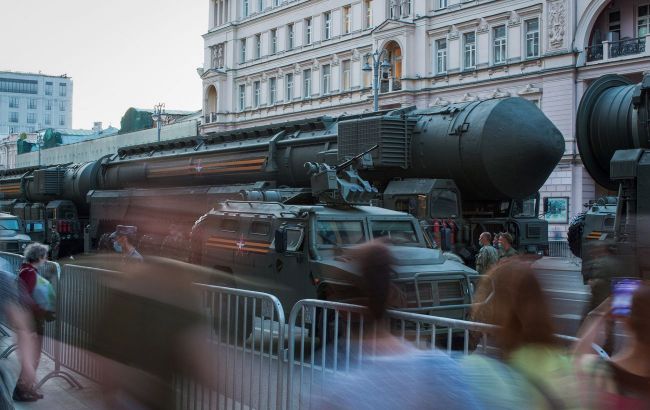 Russia has canceled the ratification of the nuclear test ban treaty (Photo: GettyImages)
The Chairman of Russia's State Duma, Vyacheslav Volodin, announced that the country is withdrawing its ratification of the Comprehensive Nuclear-Test-Ban Treaty, according to Reuters.
This decision by the Kremlin is supposedly due to the " irresponsible attitude of the United States to global security."
The Russian official explained this decision on Tuesday, October 17, stating that it is in the "interests of ensuring the security of our country." The statement was made before debates and parliamentary voting on the withdrawal of ratification.
Earlier, on October 5, Russian dictator Vladimir Putin expressed his unwillingness to say whether Russia should resume nuclear tests after calls from some Russian security experts and lawmakers to conduct nuclear bomb tests as a "warning" to the West.
While Russia is withdrawing its ratification, it will remain a signatory to the treaty and continue to cooperate with the organization that signed the agreement on the test ban and the global monitoring system that alerts the world to any nuclear tests.
Against this background, Russian officials claim that the withdrawal of ratification does not mean Russia intends to conduct nuclear bomb tests. However, arms control experts express concern that Russia may be slowly moving towards resuming nuclear testing.
Nuclear testing worldwide
According to the UN, from the signing of the Comprehensive Nuclear-Test-Ban Treaty (CTBT) in 1945 until 1996, more than 2000 nuclear tests were conducted, with 1032 by the United States and 715 by the Soviet Union. The Russian Federation itself has never conducted such tests.
In the analysts' view, the resumption of nuclear tests by Russia, the United States, or China could signify the beginning of a new nuclear arms race between states that stopped nuclear testing in the years after the dissolution of the Soviet Union in 1991.
Since the signing of the CTBT, ten nuclear tests have been conducted. According to the UN, India conducted two tests in 1998, Pakistan also conducted two in 1998, and North Korea conducted tests in 2006, 2009, 2013, twice in 2016, and in 2017.
The discussions about Russia possibly withdrawing its ratification of the Comprehensive Nuclear-Test-Ban Treaty were raised by analysts from the Institute for the Study of War (ISW) about a week ago in their report.
According to a poll by the Levada Center, about 30% of Russia's residents expect Putin to launch a nuclear strike against Ukraine.
Also, recently, Ukrainian President Volodymyr Zelenskyy, citing intelligence data, stated that nuclear threats from Russia would intensify.