Russia moves towards withdrawing from Nuclear Test Ban Treaty - ISW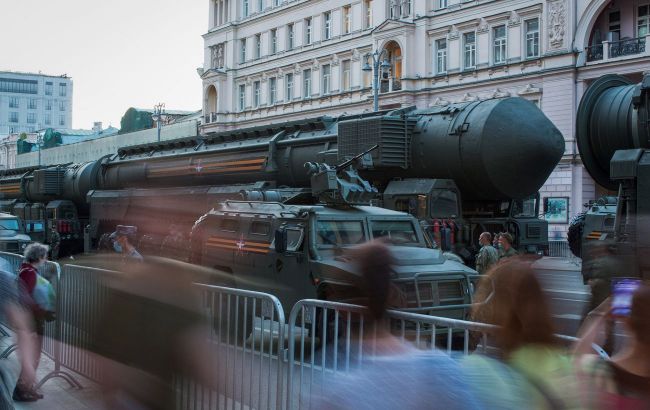 Russia wants to withdraw from the Treaty on the Nuclear Test Ban Treaty (photo: GettyImages)
Analysts note that Western media reported on October 9 about an order from the leadership of the State Duma of the Russian Federation to the Committee on International Affairs, in which they give deputies until October 18 to discuss the process of withdrawing ratification of the treaty.
Russian dictator Vladimir Putin commented on the possibility of Russia withdrawing ratification of the treaty for the first time on October 5.
"ISW has previously assessed that the Kremlin uses nuclear rhetoric to prompt the United States and its allies to pressure Ukraine to negotiate and that Russian nuclear use in Ukraine remains unlikely," ISW stated.
Key findings:
The Kremlin, as before, remains focused on advancing the perceived legitimacy and legality of Russia's internal policies, despite statements by Kremlin officials to the contrary.
Peskov's resolute comments also reflect the Kremlin's desire to demonstrate confidence and steadfastness amid concerns within the Kremlin regarding Russia's stance on supporting Putin's invasion of Ukraine.
Ukrainian forces continued their counteroffensive operations, and as reported on October 9, they made advances in the western part of the Zaporizhzhia region and near Bakhmut amid reports of deteriorating weather conditions in Ukraine.
It is reported that Russian forces initiated localized offensive operations south of Huliaipole and likely reorganized the Southern group of forces, possibly attempting to continue defending against Ukrainian counteroffensives.
Imprisoned former Russian officer and staunch nationalist Igor Girkin reiterated his previous statements that Russian military forces will continue to conduct a strategic defense to freeze the front line until the presidential elections in Russia in March 2024.
The Russian government is moving towards withdrawing its ratification of the Comprehensive Nuclear Test Ban Treaty (CNTBT).
Russian forces have been advancing along the Kupiansk-Svatove-Kreminna line, near Bakhmut, along the Avdiivka-Donetsk line, in the western Donetsk region, near the western border of Donetsk-Slovyansk region, and in the western Zaporizhzhia region, making progress in certain areas on September 9.
Ukrainian Forces continued their offensive operations near Bakhmut in the western Donetsk and Zaporizhzhia regions and reportedly made advancements in certain areas.
Discussions in Russia regarding the use of nuclear weapons
It should be noted that after the July NATO summit in Vilnius, where support for Ukraine was significantly reinforced, Russian officials began to discuss the use of nuclear weapons again.
According to surveys conducted by the Levada Center, about 30% of Russia's population expects Putin to launch a nuclear strike on Ukraine.
However, Kyrylo Budanov, the Chief of the Defense Intelligence of Ukraine, Major General, believes that Russia will not launch a nuclear strike on Ukraine.
Recently, Ukrainian President Volodymyr Zelenskyy, citing intelligence data, stated that nuclear threats from Russia would intensify.