Russia's silence: No words to justify attack on Odesa during UN Security Council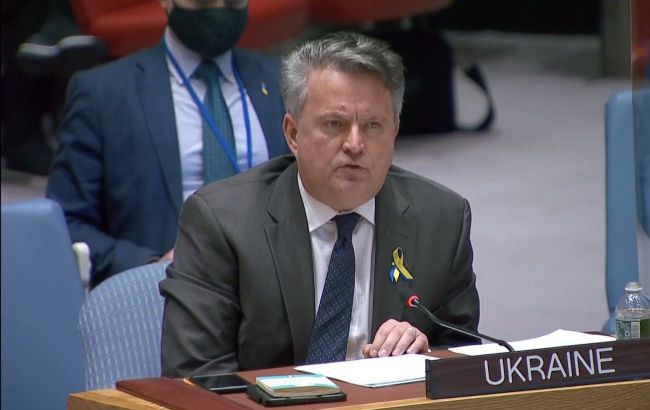 Ukraine's Permanent Representative to the UN, Kyslytsya, stated that Russia refused to comment on the strikes on Odesa during the UN meeting.
Russia did not speak during the United Nations Security Council meeting on missile attacks on Odesa, according to Twitter Ukraine's Permanent Representative to the UN, Sergiy Kyslytsya.
"Russia cowardly decided not to speak in the UNSC meeting on the attack on Odesa called by Ukraine, still I had to recognize the silent residual presence of putin's regime in the permanent seat of the USSR," wrote Kyslytsya.
In his statement, Kyslytsya emphasized that Russia has intensified its missile terror against Odesa, launching almost daily strikes on the city and its port infrastructure. On July 23rd, 19 missiles of various types, including anti-ship missiles, were fired at Odesa.
"We reiterate that using anti-ship missiles against ground targets effectively turns them into low-precision weapons of indiscriminate effect," the Ukrainian representative stated.
He pointed out that Russia's aggressive actions warrant a "strong response", as otherwise, they will be encouraged to further undermine the security situation in the Black Sea by attacking civilian ships and laying mines in waters adjacent to the Ukrainian coastline.
"There are grounds to believe that Russia is preparing such incidents for the purposes of blaming Ukraine and discouraging vessels from other countries from entering Ukrainian waters and using Ukrainian ports," he added.
Attack on Odesa and region
After Russia's withdrawal from the "grain deal," Russian forces have been launching daily missile and drone attacks on Odesa and its surrounding regions. For instance, on July 23rd, a Russian missile strike targeted the Spaso-Preobrazhenskyi Cathedral in Odesa. As a result of the attack, the cathedral's building and roof were partially destroyed.
Following this incident, Ukraine requested a convening of the United Nations Security Council to discuss the attacks on the country's port infrastructure.