Russia's losses in Ukraine as of November 14: 900 troops and 20 artillery systems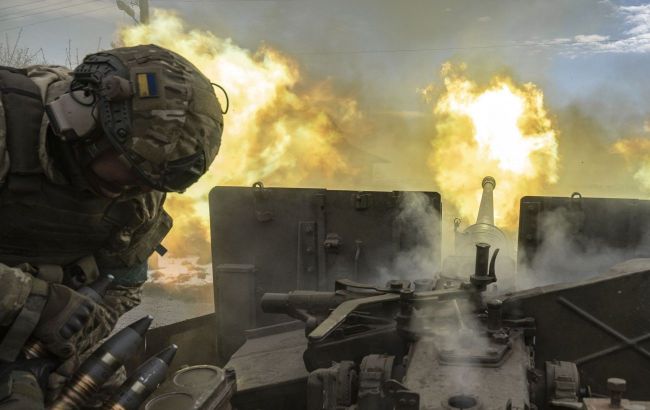 General Staff updates data on Russian losses in Ukraine (Getty Images)
Russia's losses in the war in Ukraine as of Tuesday morning, November 14, amounted to 920 occupiers, bringing the total casualties of the Russian army since the invasion began to 313,470 military personnel. Additionally, the Ukrainian Armed Forces destroyed 20 Russian artillery systems, and 8 tanks, according to the General Staff of the Armed Forces of Ukraine.
The overall Russian combat losses from February 24, 2022, to November 14, 2023, are estimated as follows:
Personnel: About 313,470 (+920) individuals;
Tanks: 5,362 (+8) units;
APV (Armored personnel vehicles): 10,086 (+7) units;
Artillery systems: 7,589 (+20) units;
MLRS (Multiple launch rocket systems): 882 units;
Anti-aircraft warfare systems: 580 units;
Aircraft: 322 units;
Helicopters: 324 units;
UAV operational-tactical level: 5,649 (+15) units;
Cruise missiles: 1,561 (+1) units;
Warships/boats: 22 units;
Submarines: 1 unit;
Vehicles and fuel tanks: 9,973 (+24) units;
Special equipment: 1,081 (+2) units.
Frontline situation
According to the General Staff, Ukrainian defenders have repelled 24 attacks by Russian invaders in the Maryinka direction over the past day, and are continuing their assault south of Bakhmut. In total, 80 combat clashes took place on the front last day.
Over the past day, Ukrainian aviation carried out 8 strikes on the areas of concentration of personnel, weapons, and military equipment and 1 strike on the enemy's anti-aircraft missile complex. Also, units of the missile forces of the Ukrainian Armed Forces hit 6 areas of concentration of personnel, weapons, and military equipment, 2 control points, 6 artillery means, an air defense device, and another important target of the occupiers.