Russia's losses in Tavria direction as of November 11: 600 occupiers eliminated, 9 surrender to captivity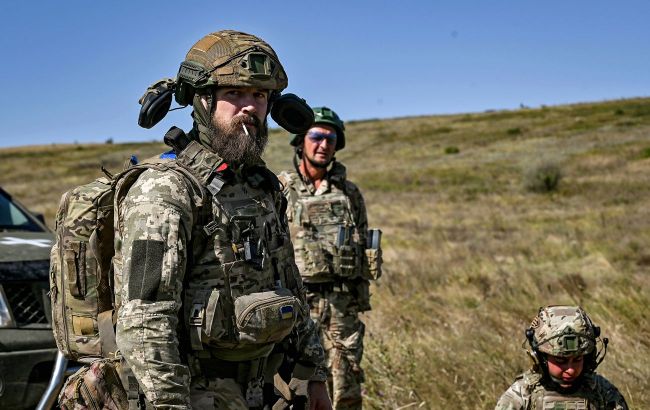 Photo: Ukrainian Armed Forces on the Tavria direction destroyed more than 600 occupiers, 9 Russians surrendered to captivity (Getty Images)
Ukrainian forces eliminated 642 Russian terrorists on the Tavria front during the past day, November 10. Nine occupiers surrendered and are now in captivity, according to the Press service of the Unified Press Center of the Defense Forces on the Tavriia front.
During the day, the enemy:
conducted 20 air strikes
engaged in 58 combat clashes
carried out 1019 artillery shelling.
Avdiivka direction
The enemy, utilizing aviation, persists in attempting to encircle Avdiivka. Defenders repelled 35 Russian attacks east of Novokalynove, Stepove, Avdiivka, Sieverne, south of Tonenke, and Pervomaiske in the Donetsk region.
Maryinka direction
The enemy conducted assault operations in the areas of Maryinka and Novomykhailivka in the Donetsk region. Eighteen attacks were repelled.
Shakhtarsk direction
In the Shakhtarsk direction, the enemy, with the support of aviation, carried out unsuccessful assault operations near Staromaiorsker in the Donetsk region.
Zaporizhzhia direction
The Russians conducted assault operations in the area of Robotyne in the Zaporizhzhia region but did not succeed.
Achievements of our warriors
The Ukrainian defense forces continue their offensive operation in the Melitopol direction, inflicting losses on the occupying forces in personnel and equipment, and wearing down the enemy along the entire front line," the press service writes.
Rocket troops and artillery units completed 1092 fire missions. Enemy losses amounted to 642 individuals, with 9 Russians surrendering into captivity.
In total, 53 units of Russian military equipment were destroyed, including:
7 tanks
11 armored fighting vehicles (AFVs)
8 artillery systems
9 drones (unmanned aerial vehicles)
15 vehicles
3 units of special equipment.
"Additionally, 3 ammunition depots were destroyed. Another 37 units of enemy military equipment were damaged," adds the press service.
Russia's losses in the war
As reported by the General Staff of the Armed Forces of Ukraine, on November 8, the losses of terrorists amounted to 1130 units of live force. Since the beginning of Russia's full-scale invasion of Ukrainian territory, the terrorist country has lost approximately 310,650 military personnel.