Russia reveals inhuman face again - 60, 000 tons of grain destroyed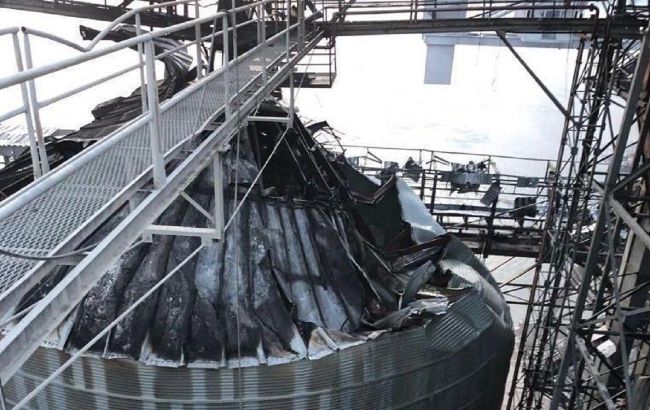 The strike result (Photo: facebook.com/Ministry.for.restoration)
During the shelling of the 'Chornomorsk' port, Russia destroyed 60,000 tons of grain. It was supposed to be sent through the grain corridor, according to a statement from the Minister of Agrarian Policy and Food of Ukraine, Mykola Solskyi.
"According to his statement, on the nights of July 18 and 19, the occupiers targeted the port infrastructure involved in the 'grain initiative.'
"The aggressor once again proved that human values mean nothing to them, and there has never been trust in their words," the minister said.
Solskyi revealed that grain terminals and port infrastructure in the ports of 'Odesa' and 'Chornomorsk' were attacked. The nighttime strike severely damaged a significant part of the grain export infrastructure in the 'Chornomorsk' port. According to experts' assessments, it will take at least a year to fully restore the affected facilities.
Destroyed grain
Additionally, 60,000 tons of grain in the 'Chornomorsk' port were also destroyed. This grain was supposed to be loaded onto a large-tonnage vessel and sent through the grain corridor 60 days ago.
Night shelling of Odesa tonight
The Russian military attacked the southern part of Ukraine with a powerful barrage of missiles and drones. Odesa and its surrounding region suffered the most significant damage, with people injured, and multi-story buildings, port, and critical infrastructure affected.
However, during the nighttime attack, Ukrainian defenders managed to destroy 24 drones and 14 missiles.
President of Ukraine Volodymyr Zelenskyy stated that Ukraine needs additional air defense systems like SAMP-T or Patriot to protect Odesa from airborne threats.