Russia may launch missiles at Ukraine following drone attacks - Defense official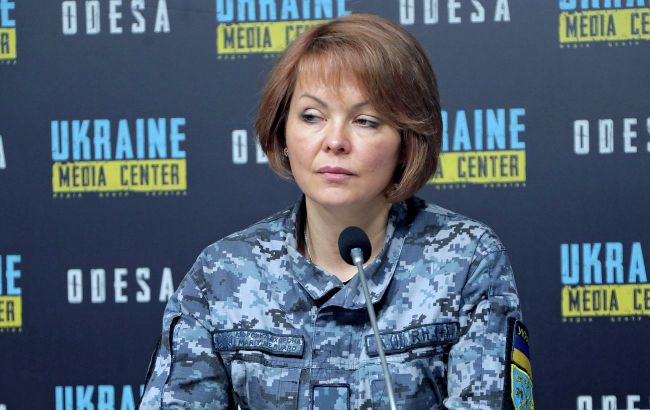 Natalia Humeniuk, spokeswoman for the Southern Ukrainian Defence Forces (Getty Images)
Natalia Humeniuk, the Head of the United Coordinating Press Center of Security and Defense Forces of the South of Ukraine, reported that she does not rule out the possibility of Russian forces preparing for a new missile barrage on Ukraine, hence the deployment of missile carriers to the Black Sea.
"The naval grouping is quite substantial - 17 ships in the Black Sea, and 1 ship is patrolling in the Azov Sea as usual. Two missile carriers, both surface and submarine, are on active duty, carrying 12 Kalibr missiles," said Humeniuk.
She added that after a prolonged pause and drone attacks on one of the ports, the Russians have again put their missiles out to sea, which could indicate preparations for a new missile attack.
"The analysis indicates that the enemy is using missiles after Shahed drone attacks, based on the data obtained from analyzing the previous attack. Meaning identifying Ukrainian (ed.) anti-aircraft defense systems and plotting routes for missiles with maximum impact," the spokesperson stated.
Humeniuk warned Ukrainians about the threat of new attacks and called for increased vigilance towards air alerts.
Recent attacks

Last night, August 3, the Russian forces attacked Ukraine with Iranian-made kamikaze drones. The Ukrainian anti-aircraft defense forces destroyed 23 drones, but some still managed to hit their targets.
The occupiers once again targeted one of Ukraine's ports. Damages were reported in the capital of Ukraine and the Kyiv region due to the falling debris of the downed Shahed drones.
Furthermore, on the night of August 3, Russian forces launched 15 drones towards Kyiv, but fortunately, all hostile drones were successfully shot down by the anti-aircraft defense.