Occupants keep missile carriers at the shore, Navy explains reason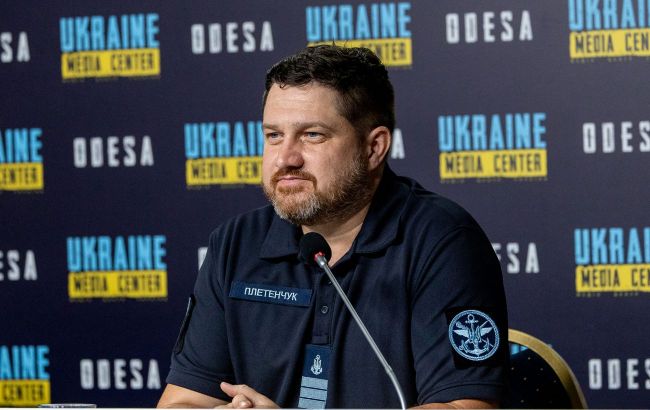 Photo: Spokesperson of the Navy of Ukraine, Dmytro Pletenchuk (facebook.com/Taclbery)
On November 19, the Russians did not deploy their ships, including missile carriers, to the Azov and Black Seas due to inclement weather, says the spokesperson of the Ukrainian Navy, Dmytro Pletenchuk, during a television marathon.
The Ukrainian Navy, through its social media channels, informed that Russia did not send any military ships to the Black and Azov Seas on that day, meaning there were no carriers of Kalibr missiles in the seas.
Ukrainian military officials note that stormy weather at sea reduces the activity of the fleet and aviation. However, the occupiers continue to use these conditions.
"The use of weapon systems is impossible. While corvettes are quite resistant to such weather conditions, the weapon systems are designed for slightly different conditions of use," explained Pletenchuk.
Russian occupation of the seas
Russia utilizes the Black and Azov Seas for its military purposes. Currently, the Azov Sea is completely under the control of the Russian Federation.
Russia's dominance in the Black Sea was diminished after the liberation of Zmiinyi Island. After Moscow's exit from the grain deal, civilian navigation was again under threat. However, in recent months, Ukrainian ships with grain have managed to break through the Russian blockade of the Black Sea. Civilian vessels with Ukrainian grain have started leaving the ports of the Odesa region.
Recently, Russians launched a missile strike on a ship entering the port of the Odesa region. It is known that the occupiers fired an anti-radiation missile Kh-31P. The ship under the flag of Liberia was civilian and headed to a Ukrainian port for loading. It was supposed to deliver iron ore to China.
As a result of the hostile attack, a Ukrainian pilot died, and three crew members (citizens of the Philippines) were injured.