Russia hands over weapons seized in Ukraine to Hamas and preparing major provocation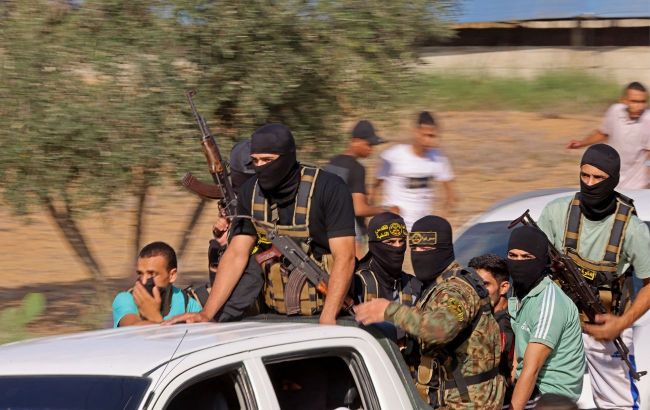 Russia handed over weapons captured in Ukraine to Hamas and preparing large-scale provocation (Photo: Getty Images)
Russian occupiers have transferred weapons captured during the hostilities in Ukraine to Hamas terrorists. Now, the aggressor country is preparing a large-scale campaign to discredit Ukraine in the Middle East, the press service of the Defense Intelligence Ukraine (DIU).
Ukrainian intelligence reports the Russian Main Intelligence Directorate has already provided Hamas militants with trophy weapons captured during the fighting in Ukraine, manufactured in the USA and EU member states.
According to the Russian plan, the next step is to initiate fake accusations against Ukrainian military personnel, alleging the regular sale of Western weapons to terrorists. As part of the Kremlin's disinformation campaign, these fakes are intended to form the basis of a series of "revealing publications" and "investigations" in Western media.
The DIU emphasizes that, for credibility, Russian special services intend to use corresponding comments from the defector from the Ukrainian Border Service, Senior Lieutenant Ruslan Sirovy, who recently fled to Moscow.
Ukrainian intelligence underscores that this latest provocation by the enemy is aimed at discrediting the Armed Forces of Ukraine and completely halting military aid to our country from Western allies.
Background
Russia has already begun spreading fakes about Ukrainian weapons among Hamas terrorists. However, the Ministry of Defense of Ukraine has emphasized that Ukrainians could not have handed weapons to militants, as our Western partners carefully monitor the arms and military equipment they supply to us to counter Russian aggression.
Polish President Andrzej Duda also stated that the Hamas attack on Israel would benefit Russian aggression against Ukraine, diverting the world's attention from it.