Russia conceals ships in the Black Sea following drone attacks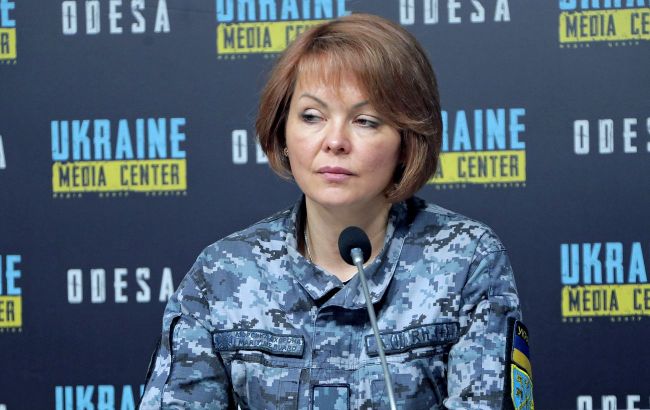 Natalia Humeniuk (Photo: Getty Images)
According to a statement from Natalia Humeniuk, the head of the United Coordinating Press Center of Security and Defense Forces of South of Ukraine, made during a TV interview, in the wake of recent drone attacks, Russia has been concentrating its naval fleet in the Black Sea. Safety for these ships now lies in strategic maneuvers.
"There is a mild panic in the Black Sea region after certain events. They have significantly dispersed their naval fleet across the area they once considered secure for themselves and their fleet. But now, safety for them is synonymous with maneuverability."
Humeniuk added that ten Russian ships are currently positioned in the Black Sea, with one monitoring the surface situation in the Azov Sea, and missile carriers stationed at their designated bases.
"After a concentrated missile-drone attack, where they unleashed their firepower impressively, they require repositioning. Let us also remember that the adversary has the practice of employing missile carriers directly from bays," she emphasized.
As per Humeniuk, "At present, the situation remains stable, but we do not diminish the tension stemming from missile threats to maintain vigilance."
Situation in the Black Sea
Recalling recent events, maritime drones targeted the Russian amphibious ship "Olenegorsky Gorniak" in the port of Novorossiysk and the oil tanker SIG in the Kerch Strait.
Ukrainian President Volodymyr Zelenskyy stated that Russian vessels could be eliminated by the end of the conflict if the Kremlin continues to assault Ukrainian ports.
Most recently, on August 5, Russia executed a large-scale attack on Ukrainian territory. Kalibr missiles were launched from the ships in the Black Sea towards Kyiv. However, they eventually redirected towards Khmelnytskyi. This time, the targets were "Motor Sich" and Khmelnytskyi. Some anti-aircraft missiles were successfully intercepted.