Russia bombs private houses in Donetsk region: Four people injured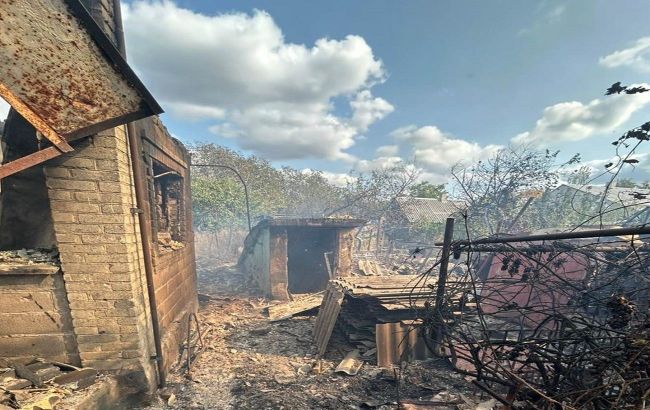 The consequences of the shelling of the Donetsk region (Photo: facebook.com/don.gp.gov.ua)
Russian forces today, on October 3, shelled populated areas in the Donetsk region with tanks and aviation. As a result of enemy attacks, four people were injured, according to the Donetsk Regional Prosecutor's Office.
Shelling of Avdiivka
On the morning of October 3, 2023, the Russian army carried out a tank shelling of Avdiivka. A shell hit a private house, injuring a 63-year-old local resident who was in the yard at the time of the attack.
It is reported that the man suffered from mine-explosive injuries, shrapnel wounds, and a leg fracture.
Attack on Illinivka
It is also reported that the occupiers struck the village of Illinivka in the Kramatorsk district, presumably using a KAB-500 aerial bomb.
"Two women aged 29 and 47 and a 43-year-old man were injured. They were diagnosed with mine-explosive injuries and bruises. The victims were on the street during the shelling," the statement said.
Photo: Consequences of strikes (facebook.com/don.gp.gov.ua)
In addition, private houses, multi-story residential buildings, an outbuilding, a commercial object, passenger cars, a cargo truck, and buses were damaged by fire and explosion.
Investigation ongoing
Law enforcement agencies have initiated pre-trial investigations into criminal proceedings related to violations of laws and customs of war.
Prosecutors are taking all possible and necessary measures to document the war crimes of the Russian Federation against the peaceful population of the Donetsk region.
Russian shelling of the Donetsk region
Populated areas in the Donetsk region are subjected to daily shelling by Russian invaders. Both frontline cities and villages in the region suffer, as well as those located in relative rear areas.
Earlier, the Donetsk Regional Prosecutor's Office reported that recently the occupiers dropped aerial bombs on Kostiantynivka, resulting in injuries to three men aged between 37 and 60 years.
Yesterday, the Russians shelled an agricultural enterprise in the Donetsk region with artillery. People were injured as a result of the attack.