Russia blocks Kerch Strait passage for ships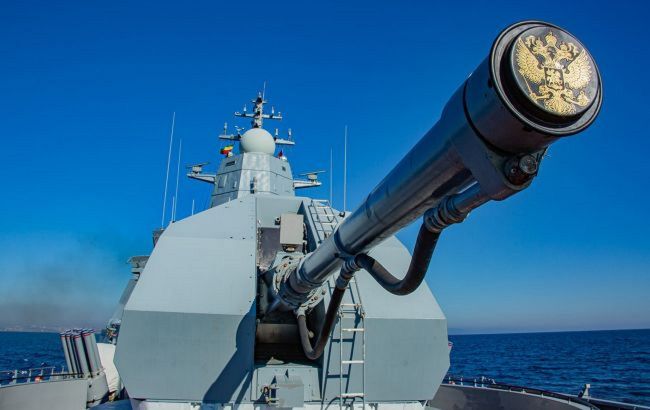 Illustrative photo: Russia has blocked the passage of ships in the Kerch Strait (facebook.com/mod.mil.rus)
The Kerch Strait connects the Black Sea and the Sea of Azov. The western bank of the strait is the Kerch Peninsula of Ukraine (Crimea), and the eastern bank is the Taman Peninsula of Russia. It is crossed by the Crimean Bridge, also known as the Kerch Bridge.
It is reported that according to the decision of the Russian Defense Ministry command, the passage of all small vessels and boats in the Temryuk region between Cape Khroni and Cape Achilleon and north of the line between Cape Takil and Cape Panagia and the coastline is prohibited.
It is noted that the restrictions include pleasure craft, sailing vessels, inflatable boats, jet skis, windsurfs, sup boards, and their analogs.
At the same time, the ban does not apply only to ships, boats, and vessels of the Russian Navy, border guards, and troops of the National Guard.
In addition, the ban applies to anchoring, harvesting of marine mammals, fishing with bottom gear, explosive and other underwater operations, sampling of bottom soil, sailing with a chain etched on the anchor, overflight, hovering, driving, aircraft, and other activities in the anchorage areas.
At the same time, transit traffic of civilian vessels through the Kerch-Yenikalsky Canal during daylight hours is allowed according to the schedule after the inspections.
Blockade of the Black Sea
After the Russian Federation withdrew from the grain deal, the aggressor country's Defense Ministry announced that it would sink ships that would enter Ukrainian ports. In addition, the Kremlin will consider the countries whose ships will go to Ukraine to be involved in the war.
The State Border Guard Service of Ukraine already stated that Russian military vessels threatening civilian ships passing near Ukrainian seaports.
It should be noted that the Ministry of Defense of Ukraine reported that Russia is preparing ships and aircraft to block the Black Sea.
Meanwhile, the Defense Forces named signs indicating that the Russians are preparing to blockade the Black Sea.