Rocket strike on Hroza: UN recognizes Russia's responsibility for the attack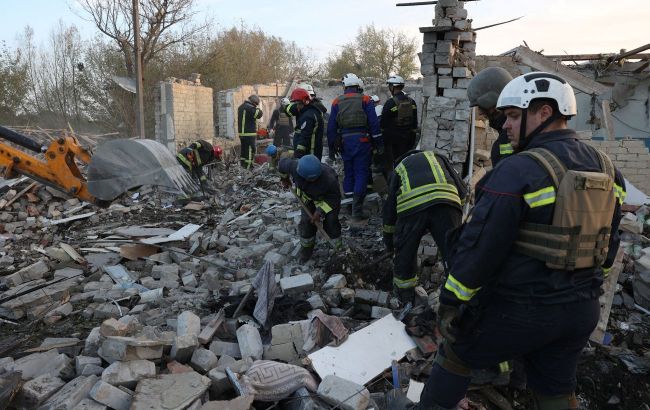 Rocket strike on Hroza (Getty Images)
The rocket strike on October 5 on a cafe in Hroza, Kharkiv region, was deliberately carried out by the Russian military. According to the UN Monitoring Mission, there were no signs of Ukrainian military presence near the site.
The document states that as a result of the rocket strike, 59 people lost their lives, they were present at a memorial service.
The victims included 36 women, 22 men, and an eight-year-old boy. All of them were civilians. They were attending the reception after the funeral and re-burial of a local man who was a member of the Ukrainian Armed Forces.
"It was, as we said at the time, one of the deadliest single incidents for civilians since February 2022," the report states.
The UN's report on these events concludes "there are reasonable grounds to believe that the missile was launched by Russian armed forces and that there was no indication of military personnel or any other legitimate military targets at or adjacent to the café at the time of the attack.."
The UN also says that the report was based on information collected and verified by the Human Rights Monitoring Mission in Ukraine (HRMMU), which carried out two fact-finding missions to Hroza on 7 and 10 October.
"Colleagues inspected the site of the blast, and interviewed 35 people, including local residents, witnesses, two survivors, medical staff and morgue employees," the report says.
It provides a detailed description of the devastating consequences of the rocket strike on Groza.
The report says that the Russian armed forces either failed to do everything feasible to verify that the target was a military objective, or deliberately targeted civilians or civilian objects.
Either scenario would be in violation of international humanitarian law.
Rocket strike on Hroza
On October 5, Russian terrorists struck the village of Hroza in the Kharkiv region. The enemy targeted a café and store with an Iskander missile. At the time of the strike, there was a memorial service for a fallen soldier.
On October 11, the Security Service of Ukraine exposed two traitors, who targeted the Russian armed forces. They turned out to be two brothers who had switched to the enemy's side and relocated to Russia with their families during the occupation of the village.
Due to the rocket strike in the village, 59 people lost their lives. On October 12, the head of the Ministry of Internal Affairs of Ukraine, Ihor Klymenko, announced that the police had identified all the victims.