Missile attack on Hroza village: Security Service exposes two Iskander gunners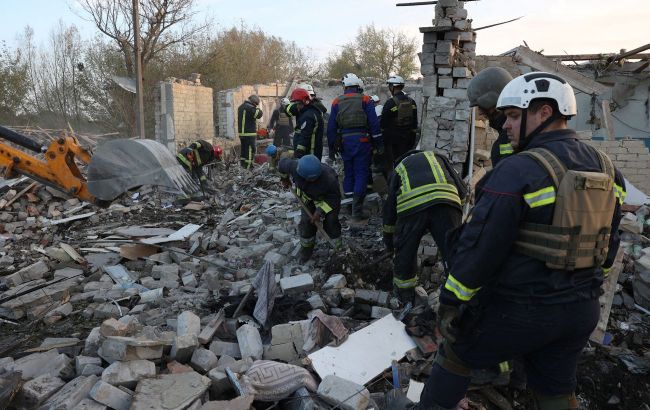 Ukrainian Security Service exposes two Iskander gunners in Groza village, Kharkiv region (Photo: Getty Images)
The Security Service of Ukraine (SSU) has exposed traitors who guided the Russian Iskander missile to the village of Hroza in the Kharkiv region. The perpetrators were identified as two brothers who switched sides to collaborate with the occupiers, according to the SSU.
"The Security Service, following hot leads, has identified the individuals behind adjusting the Russian missile strike on a café in the village of Groza in the Kharkiv region on October 5," the statement reads.
SSU exposes two Iskander gunners in Hroza village, Kharkiv region (t.me/SBUkr)
Who are the collaborators?
The culprits were identified as two citizens, 30-year-old Volodymyr Mamon and his younger brother, 23-year-old Dmytro Mamon, who sided with the occupiers during the region's occupation.
For their collaboration, they received positions within the ranks of the occupational "Internal Affairs Department of the Military-Civil Administration of the Kharkiv region." One was appointed as the driver of the convoy group, and the other as the "inspector of the road patrol service."
However, on the eve of the region's liberation, both traitors fled to the Russian Federation with their families, where they continued to work for the aggressor country.
"Under the guise of friendly conversations and messaging, the traitors extracted information from people about the dislocation of defense forces and mass events in the region," the SSU added.
Preparation for the shelling
Since the beginning of October of this year, both suspects have started gathering information about the planned reburial of a deceased Ukrainian defender in the village of Hroza. They understood that as a result of the enemy attack, civilians, including their acquaintances in Hroza, would inevitably perish, including those who provided them with information.
"Having learned the exact address and time of the peaceful event, Volodymyr Mamon passed this information to the Russian occupiers," the statement revealed.
The aggressors utilized the received data to carry out a targeted strike on the Ukrainian village using the operational-tactical missile system Iskander-M.